When the grand poobah of the court of internationalism comes a calling, the fervent worshippers of that cult are easily shocked and awed by his presence.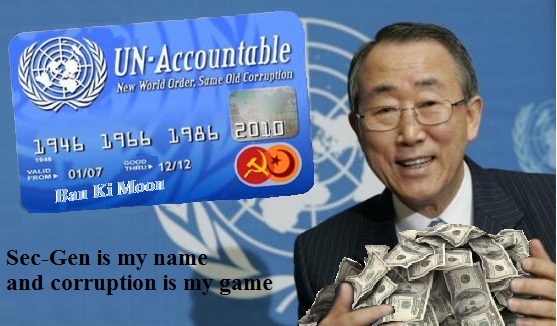 The UN is one the most corrupted international organizations, but the Finns (across the entire political spectrum) worship at its alter. It's a disgusting display of drone-like servitude, but that's always been the relationship between it and the Finnish state. Here, I'm the odd man looking in.
NOTE: To date, There has never been a single Finnish political party, nor politician, who has ever criticized the UN over its immense waste of public money, outright fraud, and every single shady deal committed by its bureaucrats. Nor are its fake journalists/media interested in anything that casts a long shadow on the edifice at Turtle Bay.
Ban Ki-moon: UN needs countries like Finland
In honor of Finland's 60th anniversary of membership in the United Nations, UN Secretary-General Ban Ki-moon addressed a packed Finlandia Hall in Helsinki on Wednesday morning and said that the UN is grateful for Finland's staunch support.
This year marks Finland's 60th anniversary in the UN, and UN Secretary-General Ban Ki-moon marked the milestone with a two-day visit that began on Wednesday.
Ban addressed a crowd of about 1,400 people, including Finnish President Sauli Niinistö, Prime Minister Juha Sipilä, Foreign Minister Timo Soini, Speaker of the Parliament Maria Lohela, former Presidents Martti Ahtisaari and Tarja Halonen, among other diplomats, politicians and leaders.
As this was a celebratory affair, Ban's speech was congratulatory and appreciative of the contribution Finland has made over the decades.
"The United Nations is grateful for Finland's staunchest support for disarmament, conflict prevention, peacekeeping and education," Ban said, noting the diplomatic and negotiation work that he had done together with the Nobel Peace Prize winner and former Finnish President Ahtisaari in various regions of the world.
Finland's peacekeeping, mediation lauded
"This Finnish practice of dialogue and mediation has contributed to peace in Bosnia-Herzegovina, Georgia, Kosovo and Namibia. When I visited Namibia last year, I saw a very proud history of their independence, led and assisted by President Ahtisaari as a special representative," Ban said.
"Finland brings great expertise as co-chair of Group of Friends of Mediation. This country helped to steer the adoption of the groundbreaking arms trade treaty. Finnish soldiers have served as UN Blue Helmets since 1956."
"I pay tribute to the memory of 45 brave men and women who gave the ultimate sacrifice for the cause of peace and security of the world. I was deeply grateful for more than 300 Finnish peacekeepers who are being deployed in many areas," he said.
"This country has a vibrant, civil society with groups that are making a mark – like the Crisis Management Initiative and the Finn Church Aid. I thank all those Finns who have contributed to the United Nations Association of Finland fundraising drive for Syrian refugees. I hope that all people can follow this example of showing solidarity," Ban said.
Diplomat's dismay with UNSC process
Before Ban began his speech, there was a panel discussion with former Finnish Ambassadors to the UN Klaus Törnudd and Marjatta Rasi, who discussed their decades of service.
When asked what the most memorable moment during their careers in the UN was, Törnudd said he recalled the two times that Finland applied for membership of the UN Security Council – once successfully in 1988 and a second time in 2012, when Finland was not elected.
During one of the few moments of the event that appeared to be unscripted, Rasi took the opportunity to speak up and voiced disappointment about the difficulties that smaller countries have in gaining access to the UNSC.
"There's always next time"
Towards the end of his speech, Ban noted Rasi's disappointment.
"Just responding to what our distinguished former ambassadors were saying about their little bit of a sour experience of running for the Security Council. I also felt very sorry three years ago. There's always competition, but there's always – what do you say – next time."
Ban said that during the country's tenure on the Security Council, as well as afterwards, Finland has provided diplomatic guidance for many members of the UN and that other opportunities to serve on the council would come.
Finland's 60th anniversary coincides with the 70th anniversary of the UN and Ban said he was trying to modernise UN operations.
Throughout his 26 minute speech Ban also spoke about issues the UN and the world at large is faced with, including women's rights, the refugee crisis and climate change.
Inspired by sisu
He borrowed a Finnish word, sisu, which roughly translates to perseverance, to get his message of unity across to the audience.
"I'm doing everything possible to modernise our operations, so that the United Nations can best solve the world's problems. With all the problems we face I'm inspired by a Finnish word I learned: Sisu," Ban said to bemusement from the crowd.
"Although it may be very difficult to translate to English, I understand that it means resolve, determination, a sense of resilience and courage in the face of difficulty. This is what we need at this time. We may be living an era of peril, challenge and conflict but we're also living in an era of promise and hope. With this sisu, the United Nations and Finland can work together with this spirit of sisu to rise to the moment in history," Ban said.
Towards the end of the three hour event, during his closing comments, Finnish Foreign Minister Timo Soini announced that Finland will vie for a spot on the UN Human Rights Council for the years 2022-24.
Ban to visit refugee reception centre
After the Finlandia Hall event, Ban was scheduled to visit the Presidential Palace and then later visit a refugee reception centre with Minister of the Interior Petteri Orpo.
Discussion topics with President Niinistö include the crises in the Middle East and Africa, particularly the civil war in Syria, the Ukrainian crisis, international migration and the refugee crisis, COP21 Climate Conference, sustainable development and the UN Agenda 2030.
Finland became a member of the UN on December 14, 1955.