UK is the terror hub of Europe.
Paris attacker travelled to UK to meet terror suspects
The unnamed terrorist visited London and Birmingham earlier this year but it is not known how he entered the country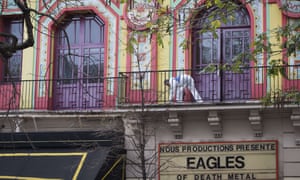 One of the terrorists behind the Paris attacks visited two British cities earlier this year, counter-terrorism officials have established.
He managed to enter the United Kingdom, travelling to London and Birmingham, before slipping away again to continental Europe, despite a heightened terrorism alert. In both cities he met with people suspected of having the intention and capability of plotting or assisting terrorist activity against the UK.
Months later he was part of the series of attacks in Paris that killed 130 people and plunged France into its biggest national security crisis since the second world war. It is not known how he got into the UK. The British-based suspects he visited are under investigation by MI5 and police counter-terrorism units.
The Isis militant entered Britain despite the terrorism threat level being at "severe", meaning the prospect of an attack was highly likely. The Home Office, the government department responsible for border security, last night declined to comment.
Abdelhamid Abaaoud, the 28-year-old Belgian extremist named as ringleader of the Paris attacks, had boasted in Isis propaganda of his ability to travel unnoticed into and through Europe. He died after the attacks in a siege in the St-Denis area as French security forces surrounded him.