Andy Bostom is the go-to man on understanding the Islamic doctrine of jihad.
I understand his (Mohammed Chirani's) need to dissemble, but it's pure fantasy and needs to be debunked at every turn.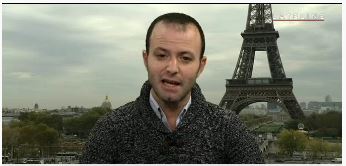 French Muslim Mohammed Chirani stares down Islamic State to declare jihad
A French Muslim who created headlines when he went on national television in France to declare jihad on Islamic State (IS) extremists says he is not deterred by the death threats he has received since.
In the wake of the Paris attacks, Mohammed Chirani, a specialist in religious radicalisation, delivered an impassioned speech telling IS that Allah would not protect them.
"Know that our dead, the innocent French citizens, are in paradise," he said.
"And your dead, the terrorists, are in hell."
Holding up a copy of the Koran and his French passport, he said he would use both to wage jihad against the extremists.
"I'd like to say we'll wage jihad against you with the Koran," he said.
"I'd like to tell the traitors who deceived France, betrayed their country and burned their IDs, that we are kissing our documents."
More here. H/T: Roger Sahlström