A hefty fine and kicking him out of the country would be his just reward.
Hanging the poor thing from its paws then playing with its genitals.
Man lost suspected of cat cruelty loses study place in Järvenpää
Police sought man at a congregation community college in Järvenpää on Tuesday night.
JÄRVENPÄÄ | A man guilty of cat cruelty at a Parish College campus in Järvenpää is no longer a college student. The man was removed from the campus on Tuesday night shortly after he was suspected of the crime came to light.
– He was removed in cooperation with the authorities. The man has lost the right to study, the Church College of Communications Salla Peltonen says.
The man suspected of animal cruelty came to Järvenpää in the autumn as an asylum seeker. Peltonen will not comment on it, to where man has now been transferred.
– It is the official thing.
UPDATE: Animal rights group want "Cat Man" booted for abusing feline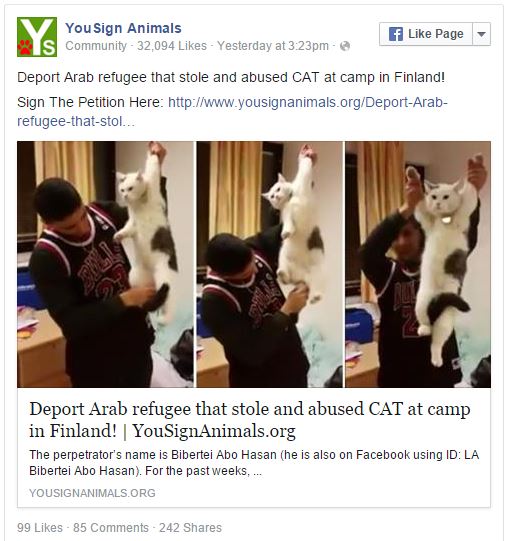 H/T: Jukka Ketonen