It's not an "intifadah", just a lot of jihad-a
I just had to make it rhyme.
SICKENING: Hamas calls for a "DAY OF RAGE" Friday across Israel encouraging terror, bloodshed & to escalate Intifada pic.twitter.com/fYRvgs9Q7J

— Israel News Flash (@ILNewsFlash) November 26, 2015
NOTE: It's who they are, it's what they really do.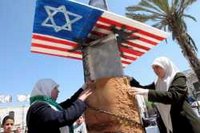 Returning to your original question, we know that the Israelis aren't genocidal because it is well within their power to commit genocide today, and they're not doing it. That's a very important difference. Given what is being said on the Palestinian side, and given the atrocities they've perpetrated with their limited means, we have every reason to believe that if the power balance were reversed, and the Israelis were an impoverished minority living within and beside a well-armed Palestinian state, we would see a very different outcome.