This is the same argument I used with one of the Finnish Red Cross workers running the local "asylum reception center", these military aged men should be fighting for their country, not deserting from it.
They want others to spill their blood for them.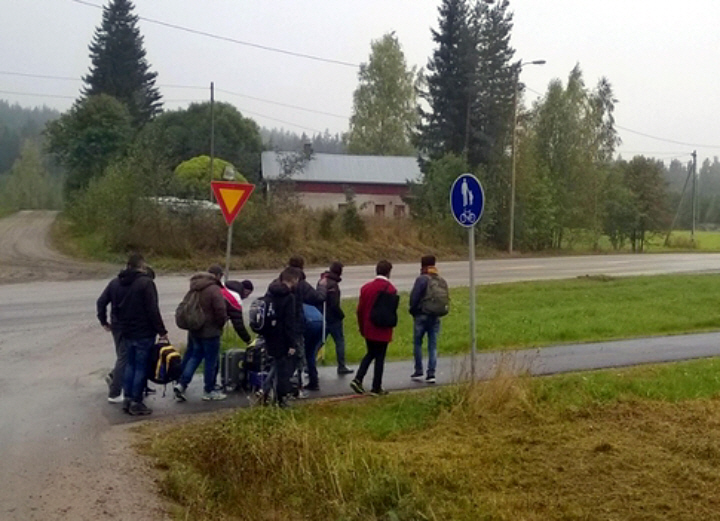 POLAND'S NEW RIGHT-WING GOVERNMENT SUGGESTS SENDING SYRIANS BACK TO 'LIBERATE' THEIR COUNTRY
AP Photo/Frank Augstein
The Daily Mail reports that Poland's new conservative government has suggested Syrians should return to their homeland in order to fight and liberate it from the extremists:
Syrian refugees arriving in Europe should form an army which can be sent back to 'liberate' their home country, instead of 'drinking coffee in the cafes of Berlin' while western soldiers face ISIS, the Polish foreign minister has said.
Witold Waszczykowski made the suggestion on Sunday, the day after French president Francois Hollande said they would carry out a 'merciless' war against ISIS in retaliation for the Paris' massacres.
Waszczykowski is part of Poland's new right-wing, eurosceptic government, which was sworn in Monday, after signalling it would take a hard line on Europe's biggest migrant crisis since World War II
Speaking after observing a minute's silence on Sunday, Waszczykowski said: 'Hundreds of thousands of Syrians have come to Europe recently. We can help them form an army.
'Tens of thousands of young men disembark from their rubber dinghies with iPad in hand and instead of asking for drink or food, they ask where they can charge their cellphones.
'They can go to fight to liberate their country with our help.'