Islamonazis being islamonazis…….
Hamas: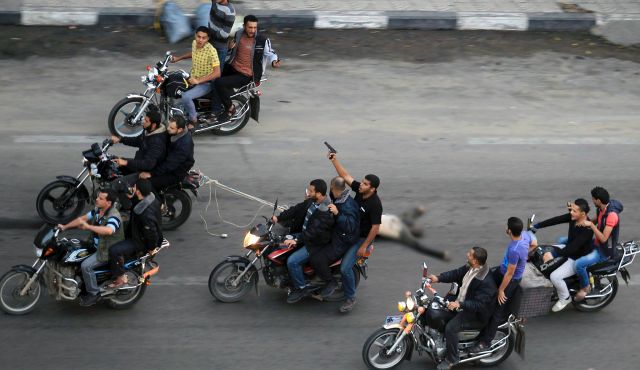 Islamic State:
Smile of a depraved killer: Shocking video shows sick Paris terror mastermind LAUGHING as he drags the corpses of his Syrian victims behind his truck
On Monday the vile extremist was named as Belgian Abdelhamid Abaaoud (main and inset), one of ISIS' top executioners and now among the world's most wanted war criminals.
The 27-year-old is believed to have persuaded thousands of young jihadis to come to Syria, including his 13-year-old brother Younes, ISIS' youngest fanatic. In chilling video footage, Abaaoud is seen driving a pick-up truck with a mound of bloody corpses in tow (right). One of his accomplices sits perched on the back, while another can be heard complaining about the smell.
The ISIS extremists are seen smiling and joking as the bodies are driven towards what appears to be a mass grave, where they are thought to have been dumped. In what is believed to be a reference to what pick-up trucks are commonly used for in the West, Abaaoud is heard saying how instead of towing jet skis and motorcycles he and his fellow ISIS fighters are dragging the 'infidels who are fighting us'.
NOTE: With Fatah in Ramallah not being any better…..