If more people were to carry concealed guns, better the chances are in these lunatics being stopped dead cold in their tracks.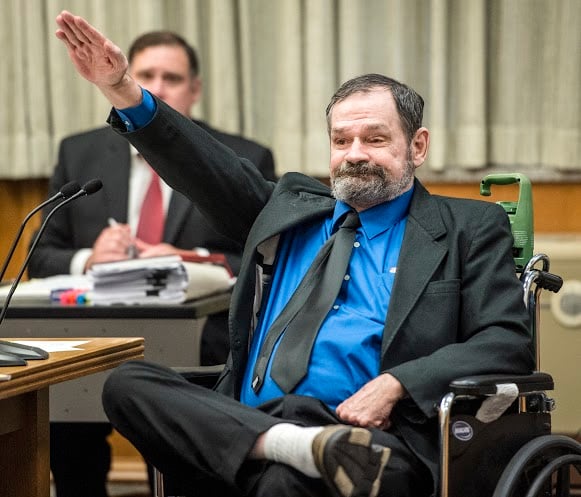 NOTE: Lets all hope that Kansas will expedite the execution of this jackal, it's a shame that he's allowed to breath another day.
Man convicted in Jewish site killings is sentenced to death
A judge followed a jury's recommendation and sentenced an avowed anti-Semite to death Tuesday for the fatal shootings of three people at Kansas Jewish sites.
Johnson County District Judge Thomas Kelly Ryan imposed the sentence for Frazier Glenn Miller Jr., who was convicted of one count of capital murder, three counts of attempted murder, and assault and weapons charges for the April 2014 shootings in suburban Kansas City. The same jury that convicted him in August recommended that Miller be sentenced to death.
Miller said he shot his victims because he wanted to kill Jewish people before he dies. He suffers from chronic emphysema and has said he doesn't have long to live. A doctor testified during trial that Miller is ill and likely has five to six years left.
All three of his victims were Christians.
He killed William Corporon, 69, and Corporon's 14-year-old grandson, Reat Griffin Underwood, at the Jewish Community Center in Overland Park, Kansas. He then shot 53-year-old Terri LaManno at the nearby Village Shalom retirement center.