The fact that professors are actually intimidated by these half brained low lives dressed up as students is a testament to their own mediocrity.
US academia models the Swedish state. After decades of radical leftistism, extremist stupidity is the desired norm, common sense, reason and rational thinking has gone out the window, what's remains is muddled mush tempered with hypersensitivity. Safe spaces for tyrants.
Students of history will notice an alarming similarity in the video above to the "struggle sessions" of Maoist China, a form of public shaming in which perceived enemies of the Party would be surrounded in a public place by Red Guards, Mao's most zealous supporters. The Red Guards would hurl abuse at their target until they confessed to their crimes.

Uninformed critics might argue that the Red Guards were a weapon of the Communist state, and not a genuine grassroots movement, but they'd be wrong: the Red Guards started out as a student movement, on Chinese campuses. Afraid yet?
ONLY CONSERVATIVES CAN SAVE THE AMERICAN CAMPUS–BUT SHOULD WE?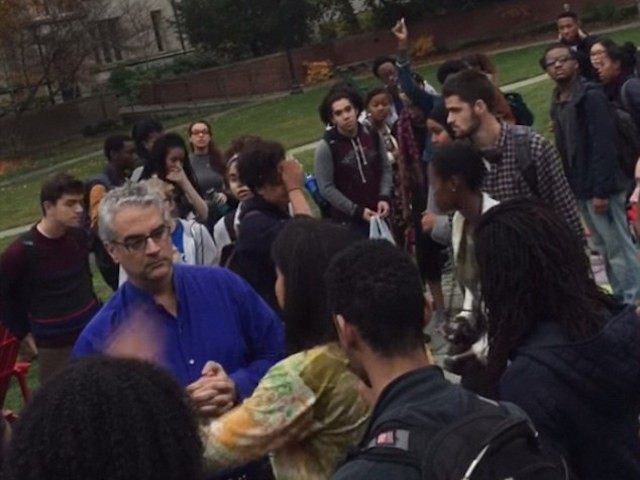 What does it take to generate a rabid, Maoist-style mob demanding political purges, on an Ivy League campus, in 2015? An email defending "offensive" Halloween costumes, apparently.
That's what kicked off the latest nadir in campus zealotry, this time at no less a university than Yale. Typically the fall is a time when Yale students are obsessed with defeating arch-rival Harvard at football, a war on the gridiron that occasionally turn ugly. This year the sport of choice seems to be the public castigation of professors by students, a battle on the quadrangle destined to become just as menacing.
Outrage began at Yale a few days ago, after an email sent by Associate Master Erika Christakis became public knowledge. Christakis complained that universities were no longer safe for "regressive, or even transgressive, experience," arguing that they had instead become places of "censure and prohibition."
Since then, both Erika Christakis and her husband Nicholas Christakis, the Master of Silliman College at Yale, have been the targets of a rabid crusade by student witch-hunters to pressure the pair into resignation. This culminated last week in shocking footage of students surrounding Nicholas Christakis, screaming expletives at him and calling for his resignation.