And our asinine politicians have no response to it.
And one day the caliphate in Iraq-Syria will issue a decree for their "lone wolves" to attack and the enemy we have let into our countries will start to reek havoc, mark my words. I hope that I'm seriously wrong, but most of you know that I'm right.
HUNDREDS OF MIGRANTS ABSCONDING FROM ASYLUM CENTRES EVERY WEEK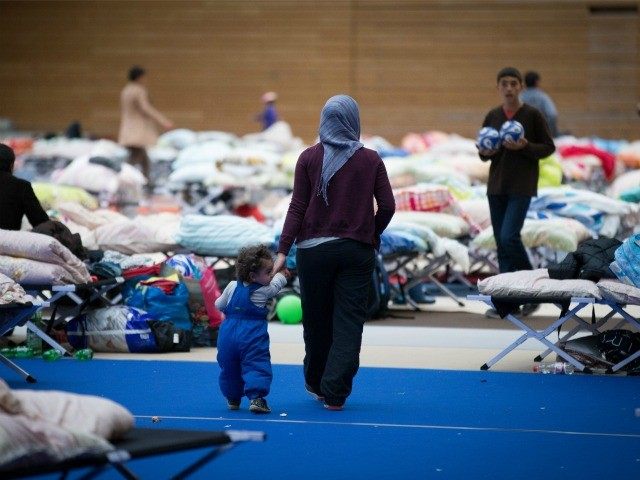 KAY NIETFELD/AFP/Getty Images
Migrants are walking out of German asylum registration centres and either disappearing into the countryside or travelling on to other countries in Europe, an official in the eastern state of Brandenburg has warned. On Wednesday alone some 600 people absconded and that number is bound to grow as the sheer weight of mostly young, Muslim men invading Germany continues to build.
Official figures reveal the Brandenburg government accepted more than 17,000 new arrivals since the beginning of September and around 7800 have been accommodated in cities and communities, while another 2,700 people are still waiting for official registration. The remaining 7,000 people were partially distributed in other provinces or simply left for places unknown.
According to Online Focus, Ingo Decker, spokesman for the interior ministry in Brandenburg, said: "These refugees are simply sometimes no longer there."  On Wednesday more than 600 people departed from the initial reception, reported the deputy ministry spokeswoman Susann Fischer.
Another serious problem for Brandenburg authorities is the many thousands of people wandering on their own in the Federal territory pose a substantial security threat, Mr. Decker said. He believes it is quite possible "that refugees would be registered more than once at various centres". Their registration is based, as a rule, on their own nomination of an identity which cannot be verified, given that most if not all migrants arrive without any documents.