When they can't debate their opposition, they take them to court.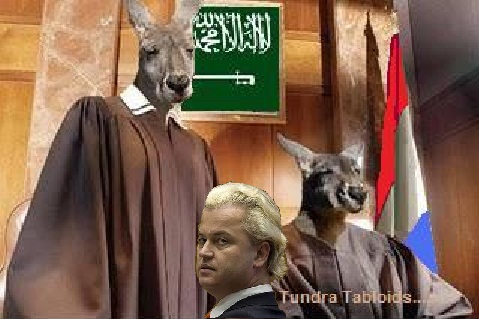 Another Kangaroo Court in the Hague
Geert Wilders, the leader of the Party for Freedom (Partij voor de Vrijheid, PVV) in the Netherlands, is facing a third "hate speech" trial sometime next year. His "offense" was to ask his supporters whether they wanted more or fewer Moroccans in the Netherlands.
Below is a translated article and interview with Mr. Wilders from the print edition of today's De Telegraaf.
Wilders awaits unfair trial
by Wouter de Winther and Ruud Mikkers
The Hague – PVV leader Geert Wilders awaits an unfair trial if he stands trial next year for stating that he wants "fewer Moroccans". That is what his lawyer Geert-Jan Knoops says.
The lawyer is upset about the fact that the judge has allocated only 1 percent of the investigation requests of Wilders' defense. "These include doing further research by experts. The defense has serious concerns about whether Mr. Wilders in his criminal case can adequately defend himself," Knoops says in a statement.
"When all reasonable requests are rejected, they apparently want to convict me at all costs," the PVV leader concludes. Wilders is expected to appear in court sometime in 2016.
"A correct picture of the context of the alleged statements of Mr. Wilders is essential," says Knoops. "In order to present this picture to the judge, Wilders should get the chance to have the investigation he has asked for." The lawyer says that Wilders is seriously harmed in his defense. "This way, Mr. Wilders does not get a fair trial."
"The verdict seems to be ready'
PVV leader Wilders feels provoked. He says he will not get a fair chance to defend himself in the trial in which he is being sued for group insult and incitement to hatred and discrimination. Almost all his requests to call experts or to examine whether the declarations against him have been tampered with have been dismissed. He has appealed, because this way the chance of a fair trial would be reduced to nil.