The overall message that needs to get out is the fact that, Hajj Amin El-Husseini, the late former mufti of Jerusalem was solely relying and acting upon canonical Islamic Jew hatred as shown by Dr.Andrew Bostom, in his personal jihad against the Jews. That's the big picture here, and will always remain the big picture in their (Muslims) 1400 year jihad against the Jews.
NOTE: Weinthal also points out that German and Austrian politicians are busy slapping backs and pressing the flesh with known Holocaust deniers in Iran.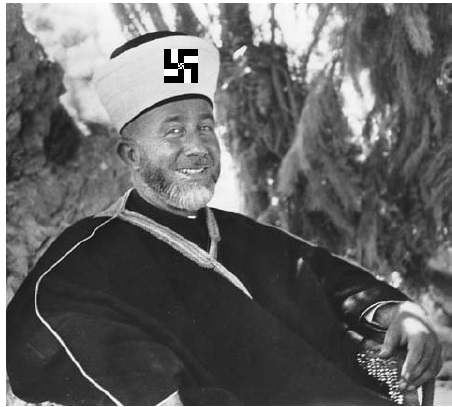 Instead of using the mufti hullabaloo as a teaching moment, the White House press secretary said, "The inflammatory rhetoric needs to stop."

Merkel's spokesman airbrushed the mufti's role: "All Germans know the history of the murderous race mania of the Nazis that led to the break with civilization that was the Holocaust. This is taught in German schools for good reason; it must never be forgotten…"
Netanyahu, Palestinian terrorism and the Holocaust

BERLIN –  Israel's Prime Minister Benjamin Netanyahu sparked a long-overdue debate about the role of Haj Amin al-Husseini—the mufti of Jerusalem from 1921 to 1937—in carrying out the Holocaust. What German Chancellor Angela Merkel and the Obama administration failed to internalize is the low public awareness of the mufti as a key Nazi-ally in the Muslim world.
Responding to daily Palestinian terrorist attacks, Netanyahu cited Husseini to show lethal Palestinian anti-Semitism existed before the founding of the State of Israel in 1948. Husseini barred the entry of 4,000 Jewish children to Palestine in 1943. He managed to escape prosecution as a war criminal at the Nuremburg trials of Nazis.
Netanyahu said: "He [Husseini] flew to Berlin. Hitler didn't want to exterminate the Jews at the time; he wanted to expel the Jews. And Haj Amin al-Husseini went to Hitler and said, 'If you expel them, they'll all come here.' 'So what should I do with them?' he [Hitler] asked. He [Husseini] said, 'Burn them.'"
Netanyahu subsequently clarified his remarks: "I had no intention to absolve Hitler of responsibility for his diabolical destruction of European Jewry. Hitler was responsible for the Final Solution to exterminate six million Jews. He made the decision. It is equally absurd to ignore the role played by the mufti, Haj Amin al-Husseini, a war criminal, for encouraging and urging Hitler."