No one can challenge Timo Soini and not feel the blade.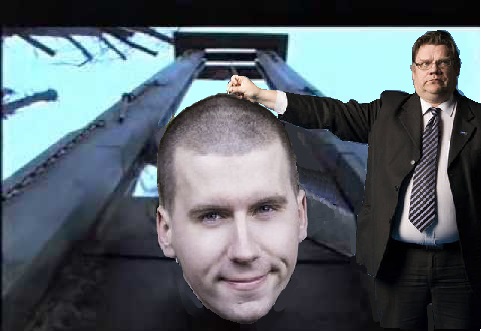 Finns Party expels vice chair Tynkkynen, Soini denies "witch hunt"
Finns Party third vice chair Sebastian Tynkkynen's party membership was revoked by the Finns Party board at a gathering on Friday evening. Tynkkynen, who has agitated for a tougher euro-sceptic and anti-immigration line by the party, was formally expelled for possibly violating privacy laws by publishing names of supporters during a push for an emergency meeting to review party policy and performance in government.
Sebastian Tynkkynen posted a video on his Facebook account late Sunday night announcing that he had been informed by email of his expulsion from the Finns Party. The decision was taken by the party board on Friday evening. Tynkkynen was absent from the meeting, attending a gathering of Nordic political youth organisations in Iceland.
Tynkkynen, who previously headed up the Finns Party youth grouping, was elected the party's third vice-chair last summer.
Earlier this month, he issued call for an emergency meeting of the party leadership in the face of widespread dissent within the party and a sharp fall in voter support. The meeting was to be aimed at determining whether or not the Finns Party would remain in the current coalition government. Tynkkynen's call was firmly rejected by the rest of the party's leadership.
Tynkkynen described his expulsion as a "witch hunt", and claimed that it is aimed at silencing criticism from within party ranks.