The UN should close its doors once and for all.
The UN is an international freak show, it shows just how warped societies on the micro level can become through an "equal" one man, one vote pure (Big D) democracy experiment. Those sitting on key seats waving fingers of judgement against Israel are the worst of the worst, but in this Orwellian-like institution where water runs uphill, this is par for the course.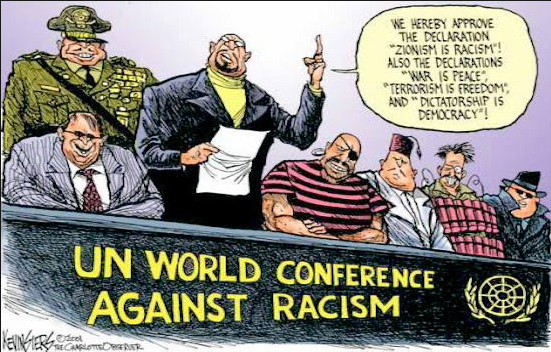 How the UN report shot itself and human rights in the foot
The report from the UN Human Rights Council (UNHRC) on the 2014 Gaza conflict has no surprises: it is another pseudo-legal and immoral case of Israel-bashing. Like the discredited Goldstone Report and virtually every other UN "inquiry" on Israel, political NGOs (non-governmental organizations) provide the basis of the investigation and findings. In the UN report, NGOs appear on almost every page: B'Tselem is cited 69 times; Amnesty International, 53; Palestinian Center for Human Rights (PCHR), 50; and Human Rights Watch (HRW), 22. To anyone familiar with the political agendas of these NGOs, the UN's latest "findings" – namely, condemnations of Israel – come as no surprise.
Like the NGO publications, the Commission of Inquiry report on the Gaza war is filled with unverifiable accusations based on the testimony of nameless witnesses. Although the Commission recognized that testimony from Gaza is unreliable, acknowledging "fears by Palestinian witnesses of reprisal by armed groups and local authorities," in practice, the report relies extensively on such anonymous allegations. For instance, in the section discussing attacks on houses, witnesses are quoted on the most essential legal and moral questions, apparently without concern for intimidation or lying to prevent self-incrimination: "According to the witnesses, all of those killed were civilians"; "they insisted that there had been no military activity in the building."
The latter claim is augmented by statements given by the same witness to PCHR, asserting "that no family member belongs to the 'Palestinian resistance.'" Reading between the lines, we see that the eyewitnesses themselves were likely selected by NGOs, such as PCHR, and delivered to the UN investigators.