Conquest allowed by dithering weak-in-the-knees western "leadership".
NOTE: In Finland, the political elite has let some ankle show, the Bank of Finland president, Erkki Liikanen let it be known that they "intend to use these muslim settlers to secure the Finnish welfare state". Yes, he actually meant it.
"the new stock of workers will strengthen the country's economic development and bolster the financial security of the welfare state."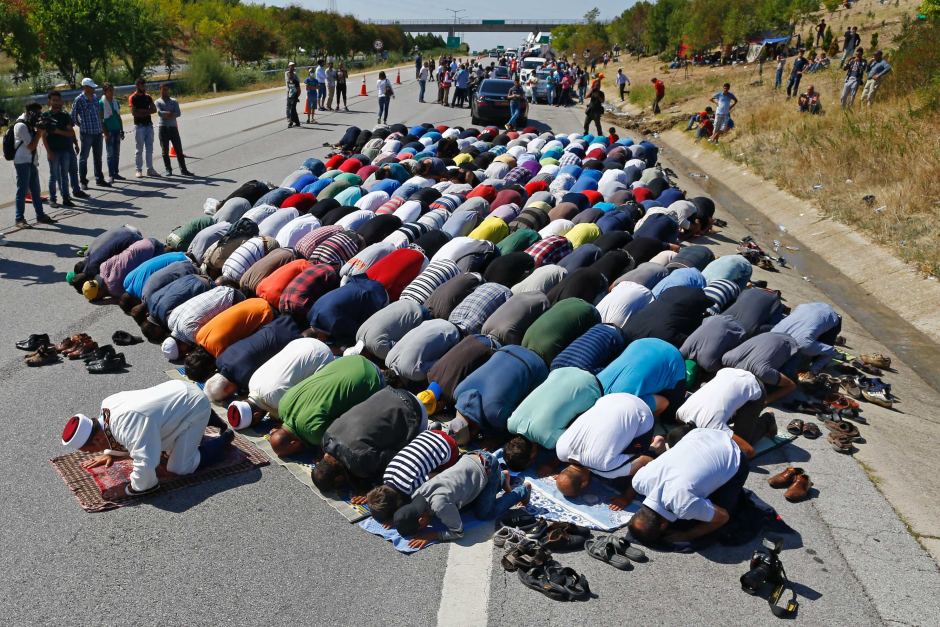 "Meanwhile, despite media coverage that plasters images of women and children embarking on this centuries-old invasion, it is worthy to note that, per the United Nations, 72% of these "Mediterranean sea arrivals" are single men."
Europe's Refugee Crisis: Violence, Demands, and Muslim Conquest
As Muslims swarm into Europe, the long-term implications are clear as violence erupts and demands are made.
For example, the tiny Greek island of Lesbos, situated 6 miles from the Turkish shore, has a population of 85,000. But life for Greeks who live there has changed in hideously threatening ways, as they have been overwhelmed with 25,000 Muslim invaders. With no end in sight. The invaders arrive on inflatable boats, which they slash once they reach the shore. Breitbart reports on German news coverage (RTL):
…they are being held on the Island while the police issue emigration documents, a delay which can take days. The wait is causing tension between groups as Afghans accuse Syrians of getting preferential treatment by the authorities, leading to vicious violent clashes.

As rocks, bottles and municipal bins fly, one tearful local woman told RTL "We are in danger, every day, every minute. We need someone to protect us. They come into our houses. I want to go to work, but I can't. Our children want to go to school, but they can't. They have stolen our lives!" (snip)

The main town of Lesbos, Mytilene, now resembles a war zone as the migrants rip apart the infrastructure and use the town as a urinal. Mayor Galinos helpless in the face of such an onslaught is out of ideas, and is calling on the European Union to do something.

"This is a ticking time bomb that will go off soon," he said. "We have managed to avert some catastrophes, but we need help, more ferries. This island is so small, we can't solve a worldwide humanitarian crisis by ourselves. The European Union needs to act." (snip)

Junior interior minister Yiannis Mouzalas told local radio "the situation is on the verge of explosion." It is a scene being replicated on islands all along Greece's coastline.
Video of the explosive scene described in the excerpt above can be found, here. It is emblematic of Europe's Muslim problem – a problem growing exponentially with each passing hour.