This is exactly what the Tundra Tabloids' Helsinki correspondent, Stefan, was saying about the Finnish situation, a whole cottage industry of workers feeding off the "refugee" crisis see a bonanza in the business. Public money is being sloshed around at a dizzying rate and with all kinds of largess being doled out without proper oversight.
Those "rush across" the continent aren't running for their lives, he said, adding that they simply wanted a German standard of living.

"Nobody can ask us to share what we have worked for with people who are no longer in trouble or running for their lives".
HUNGARIAN PM SLAMS SOROS-FUNDED ADVOCACY GROUPS: THEY "ARE DRAWING A LIVING FROM THE IMMIGRATION CRISIS"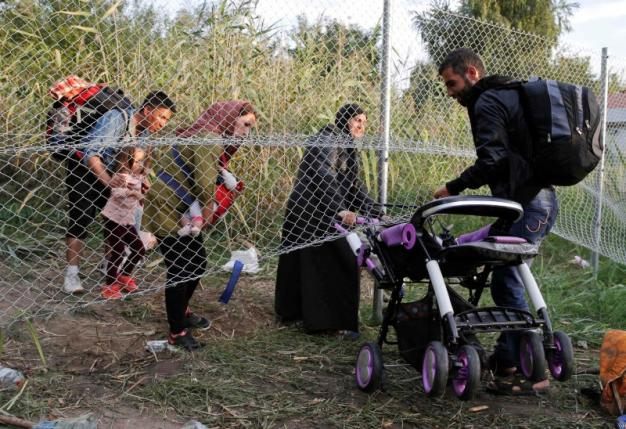 REUTERS/Marko Djurica
Embattled Hungarian Prime Minister Viktor Orban has lashed out at pro-migration non-governmental organisations (NGOs) today, singling out those funded by Hungarian-American George Soros for criticism. He said they are "are drawing a living from the immigration crisis" while Hungary is simply trying to protect its standard of living.
In an interview with the Hungarian-language TV2 television network, Orban, who has been accused of creating a police state in Hungary since the start of the crisis, said that his actions were simply reflecting the will of the Hungarian people, and mocked the Austrians and the Germans for now following his example and securing the country's borders.
"…one could joke that Austrians are now doing something they had previously continually criticised Hungary for, but this is not the time to do so," he quipped, adding: "Europe is, after all, the land of democracy and it is impossible to go against the will of the people for a long time and without arguments".
He has come under fire from left-leaning media in the West, who lashed out at him after he stated his concern that most of the migrants entering his country were Muslim. He saidlast week: "If we lose sight of the European idea, [Christianity] can become, on its own continent, a minority."
When asked about this, he doubled down, stating "the truth is that we are protecting our way of life".
And according to him, the migrants are no longer "refugees". They have, since leaving conflict zones, passed through a number of safe countries before reaching Hungary, and attempting to go further into Europe to places like Sweden and Germany.