If anyone thinks that having fascist Russia do battle against the islamofascists (followers of canonical islam) is a good thing for the West, please be advised, the problem with that is, Russia will reduce IS to a point where it doesn't bother them, but not us. Keeping the West off balance is the most important thing for Putin, he will not decimate the I.S. threat to the West, just deplete the threat to Russian security interests.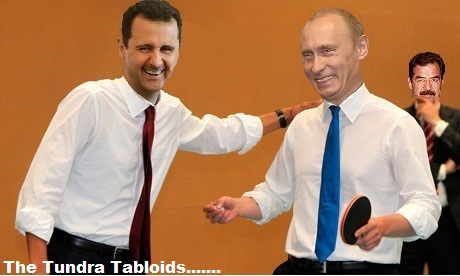 "This means far more than the IAF not being able to strike at will on Syrian territory.  It even means more than threats against Israel having room to grow inside Syria.

It means that Syrian air space, and some amount of air space beyond it, will be monitored, to a military level of awareness, targeting precision, and centralized coordination, by Russian forces.  Russia will be able to have a veto – a latent veto, to be sure, but that's what vetoes are: control by negation – over what the IAF might do."
Game change: Russia can now warn Israel against IAF operations over Syria
By J.E. Dyer on September 30, 2015 at 2:11 am
A recent report in Arabic media suggests that Israel has agreed to coordinate the IAF's operations over Syria with Russia, and claims that Russia has warned Israel against conducting strikes in Syria in which Russian soldiers may be killed. Israel Matzav has the story here.
The reflexive inclination is to focus on whether this particular report is accurate, and what the narrow, immediate implications are. The big-picture implications, however, are actually much more important.
Short-term/tactical
But let's quickly address the first questions. The tone of the Arabic reporting, even in pidgin translations, is triumphalist against Israel, and we should exercise due skepticism of any particulars.
That said, the concerns reportedly raised by Russia are valid and reasonable, if Russia is going to be operating in Syria. The Arabic report is by no means unrealistic.
Russia probably did warn Israel of the grave concern it would be to Russia if an Israeli strike killed a Russian.
And the Russians could very well suggest, as a practical matter, that Israel not conduct uncoordinated air strikes in Syria from now on. Such a "suggestion" could be seen by interested partisans as a warning or an imposition on Israel, even if it was couched by Russia in the terms of a negotiating position. It wouldn't be an open threat – but it would inherently be a veiled one.
Israel may be able to make some accommodations, even if they aren't everything Russia suggests. If the IAF is blasting weapons convoys headed for Hezbollah in Lebanon, there might be room for avoiding Syrian territory, for the most part.
If any anti-Israel force – whether Hezbollah or another entity – is setting up firing positions north of the Golan, I don't see Israel agreeing to ask permission from Russia to deal with that problem. Israel's response, I have no doubt, would be: "Keep your men out of that zone, because we're going to defend ourselves."