He was a loser, the GOP RINO's loser.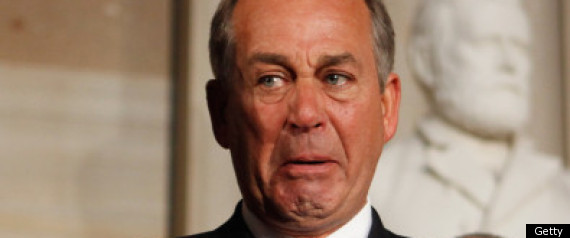 Just make sure that they do not make the same mistake again. This time elect a real conservative and stick it to Obama!
John Boehner, House Speaker, Will Resign From Congress
By JENNIFER STEINHAUERSEPT. 25, 2015
NEWS CLIPS By THE ASSOCIATED PRESS 1:46
Speaker John A. Boehner announced on Friday that he will resign his position and give up his House seat in October.
By THE ASSOCIATED PRESS on Publish Date September 25, 2015.
WASHINGTON — Speaker John A. Boehner, an Ohio barkeeper's son who rode a conservative wave to one of the highest positions in government, said Friday he would relinquish his gavel and resign from Congress, undone by the very Republicans who swept him into power.
Mr. Boehner, 65, made the announcement in an emotional meeting with his fellow Republicans on Friday morning as lawmakers struggled to avert a government shutdown next week, a possibility made less likely by his decision.
Mr. Boehner told almost no one of his decision before making it Friday morning. "So before I went to sleep last night, I told my wife, I said, 'You know, I might just make an announcement tomorrow,' " Mr. Boehner said at a news conference in the Capitol. "This morning I woke up, said my prayers, as I always do, and thought, 'This is the day I am going to do this.'