Fake refugees all of em. Adios!
When the gravy train lacks gravy………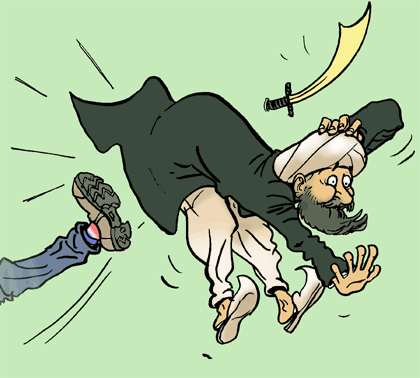 Iraqis warning each other : Do not come to Finland, it's terrible here
Iraqi asylum seekers coming to Finland are spreading posts on social network: Coming to Finland is a mistake. In a global, popular Facebook group, many ares considering a return to Iraq.
In video in downtown Narinkkatori  Helsinki, three Iraqi men give "important advice for anyone thinking about leaving."
– For those who think of departing: no kidding, do not! We are already thinking about returning to Iraq. We regret that we came to Finland.
– We were wrong! Paid a terrible amount just for nothing. It is thought in Iraq that in Europe everything is miraculous. But it's quite common here. Do not believe that Europe is something transcendental, say Ali, Kadar and Ali named men in Arabic, published on Sunday evening in a cellphone video.
According to them, the images and expectations were something quite different than the reality that dawned on them in a journey through Europe.
– Really, the situation in Europe is difficult. Of course, you can be safe here, but the toilets are dirty, there are no clothes, the food is expensive … The portions in the reception center are awfully small. Not even a kid can manage here.
– Being in exile is a terrible humiliation. Here you can not even do work. Coming here was a mistake.
Panadol costs € 20, falafel eight
In the second video, Mustafa repeats his second thoughts. He stands next to the Kaarlenkadun reception center in Kallio, Helsinki.
– It is better to live in Iraq. It is dangerous, but so be it. Seriously, I'm going to come back. I would rather die at home, he says.
– Here it is humiliating. People living in tents in camps. Many commanded that we leave Iraq, but even a sea crossing is dangerous. Then they took the money.
According to both Mustafa and Ali, Kádár it is shockingly expensive in Finland : a pack of cigarettes costs seven euros, panadol 20 euros and the bread falafel-eight euros.
– Here it is a pretty terrible. The situation is awkward. Safe here, everything is available, but here you suffocate.
– Forget the talk of residence permits. If you are in Turkey stay there or return to or remain in Iraq. Remain in your home country, even if it means life or death, the vulnerability is … At least you're at home, he implores.
"Stay or go – what would you advise?"
Videos have been published in the Iraqi people's popular Facebook page, which are divided into tips for traveling to Europe. The group has more than 200 000 members in both Iraq and around the world. Many other ending up in Finland are hesitant.
– Hey, you who are in Finland. Yesterday I arrived in the area of Oulu. It is a pretty desolate region. What do advise me to do? Should I stay here, or should I go to another region? one in Oulu ended up asking in the posting.
– Hey, this one's brother in Finland wants to return to Iraq. What advice would you give?Pliis.