The lying media, what else is new?
The iron triangle of the government, media and academy can always be counted on to diverge with the majority of public opinion.
POLLING: BRITISH PUBLIC REJECTS IDEA OF LETTING MORE MIGRANTS IN, CONTRASTS WITH MEDIA NARRATIVE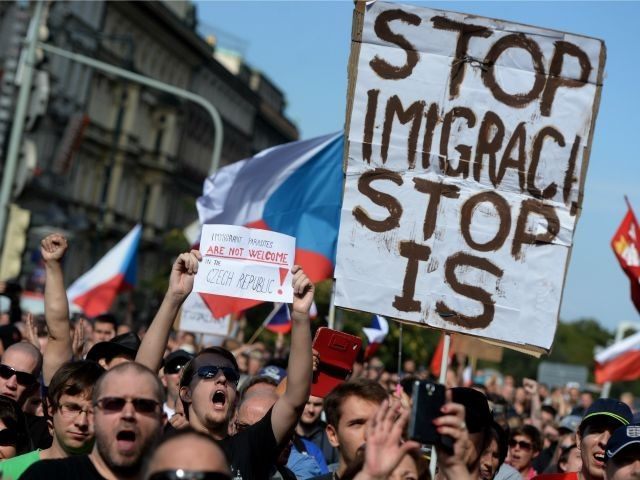 MICHAL CIZEK/AFP/Getty Images
Over the course of this weekend we have heard no end of left-wing politicians and media commentators taking to the airwaves to claim that the British public overwhelmingly support Britain accepting more migrants into the United Kingdom. But frankly, the polling just doesn't reflect this. BBC anchors, Channel 4 hosts, Labour politicians and even foreign political commentators are claiming that Britons are amenable to the idea of more refugees. 
Last Friday, Channel 4's Krishnan Guru-Murthy asked me if "my side" of the debate was just being "nasty", as lefties Caitlin Moran and Hella Pick enjoyed some glorious PR coverage for their campaign to open the borders to more migrants. The BBC's Stephen Nolan harangued his guests for suggesting they weren't in favour of the government plans.
This weekend, a Labour MP said Britain should take more migrants even if hospital waiting lists increased, taxes went up, cities overflowed, and school class sizes went through the roof. She said we should accept people until we are "saturated".
And the Los Angeles Times columnist Christina Boyle wrote that "a solid majority of Britons appear to support Prime Minister David Cameron's plan to resettle 20,000 more Syrian refugees by 2020".
But the polling figures simply don't reflect these points. The fact is the media, as well as our politicians, are lying to you.
"Quelle surprise, Raheem!" you say. But there is scant fair reporting from the other side of this debate, which is why I believe it is so important to make sure "my side" has the facts to hand, and shares them with everyone they know. Here they are. (And while Yvette Cooper's numbers didn't make sense, I've conservatively assumed the average size of a Syrian family to be 5 people).
More here. H/T: Our buddy Buck