Muslim settlers.
THE SYRIAN REFUGEE WAVE HITS EUROPE: INVASION, IMMIGRATION, OR BOTH?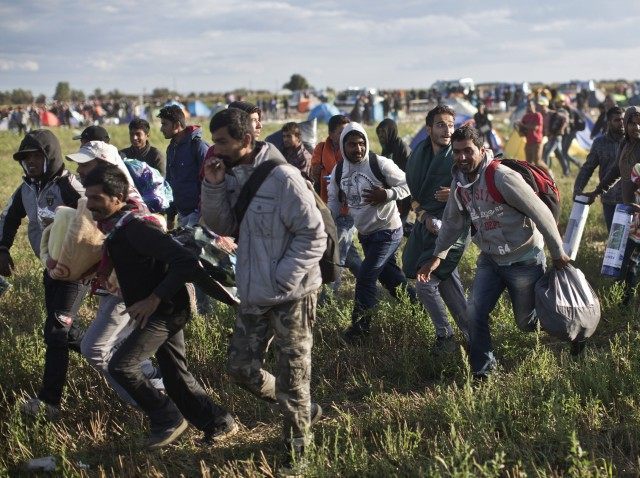 The Associated Press
It has become well-accepted in the West that Europe and the United States ought to welcome hundreds of thousands of Muslim refugees from Syria, Afghanistan, and Iraq. Based on the available evidence, that accepted perspective spells disaster for the character and safety of the West.
On Tuesday night, Donald Trump told Bill O'Reilly, "I hate the concept of it, but on a humanitarian basis, with what's happening, you have to… It's a living hell in Syria. There's no question about it. They're living in hell, and something has to be done."
This week, British Prime Minister David Cameron announced that the United Kingdom would accept 20,000 Syrian refugees by 2020: "given the scale of the crisis and the suffering of the Syrian people it is right that we should do much more."
French President Francois Hollande has proposed taking in 24,000 refugees, stating, "it is the principle to which France is committed."
Germany's vice-chancellor, Sigmar Gabriel, told public television that the nation could take up to 500,000 refugees per year. Since April 2011, Germany has processed nearly 100,000 asylum applications; Sweden has processed 65,000. More than 16,000 Syrian refugees now await resettlement consideration from the United States government.
All of this sounds wonderful when we consider the humanitarian crisis unfolding in the Middle East. Boosted by the absence of any Western leadership, ISIS has driven millions from Iraq and Syria, and Afghanistan continues to degrade into chaos. But before the West mainlines Muslim immigrants into its veins, it's worthwhile to stop and ask two questions: First, why the media focus on the humanitarian crisis now? Second, who are these refugees?