The best thing that Trump can do during the early campaign period, and perhaps during the primary period, is to show other candidates how to handle the media and their opposition. I like Trump, for those reason just explained.
What we do not need once again in the White House, is someone who has created a cult of personality, and while Trump is in no way to be compared to Barack Obama, someone who loathes what America is and stands for. What we really do need however, is someone who has internalized both conservative values, and principles, not someone who is just good at reading from signs, teleprompters and giving vague (conservative sounding) glib responses.
NOTE: I'll vote for Trump if he gets the nod, but we really do deserve a true conservative candidate to rally the center of society.
AP: TRUMP HAS 'TONIGHT SHOW' AUDIENCE 'EATING OUT OF HIS HAND'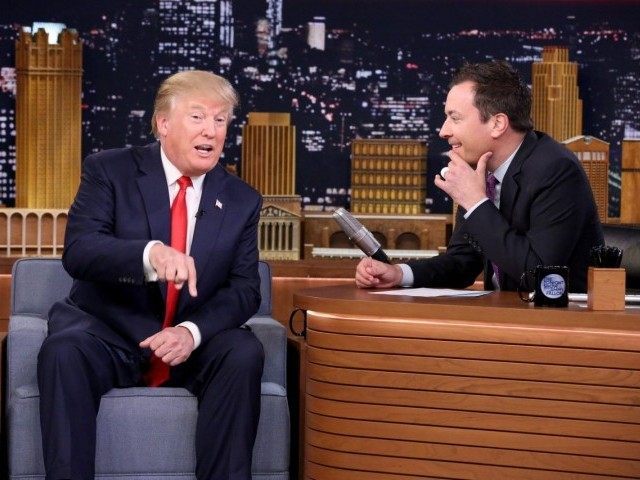 The Associated Press
NEW YORK (AP) — Donald Trump clarified, sort of, a long-standing question about his personality during an appearance on Friday's "Tonight Show."
Host Jimmy Fallon asked him, playfully, if the billionaire developer and GOP presidential front-runner has ever apologized for anything.
"I fully think apologizing is a great thing," the famously self-assured Trump replied before winning the studio audience's applause by adding: "But you have to be WRONG. … I will absolutely apologize sometime in the hopefully distant future if I'm ever wrong."
That's how it went, with both Fallon and the audience eating out of his hand.
In what passed as one of the segment's more serious moments, Fallon asked what Trump was doing on the campaign trail that his Republicans aren't to win support from voters.
"I think they want our country to be respected again," Trump said. "I think they feel that if I'm president, I will do some great things for our country, and we're gonna be respected again…. There's a movement going on, and it's amazing to watch."
Trump's interview session with Fallon was remarkably similar to a comedy sketch that had Fallon impersonating Trump, complete with orange wig, as they faced one another on opposite sides of a picture frame, as if one of them were the other's mirror image.
In this setting, Trump could be interviewed by the only person he deems worthy of the task – himself.
"How are you gonna create great jobs in this country?" asked Fallon-as-Trump during the exchange.
"I'm just gonna do it," Trump replied.