Lets face it, it's how those in the fake media works.
ANNE MARIE WATERS: BBC MADE ME LOOK AS 'RADICAL' AS AN ISLAMIST HATE PREACHER, FOR OPPOSING VIOLENT ISLAMISM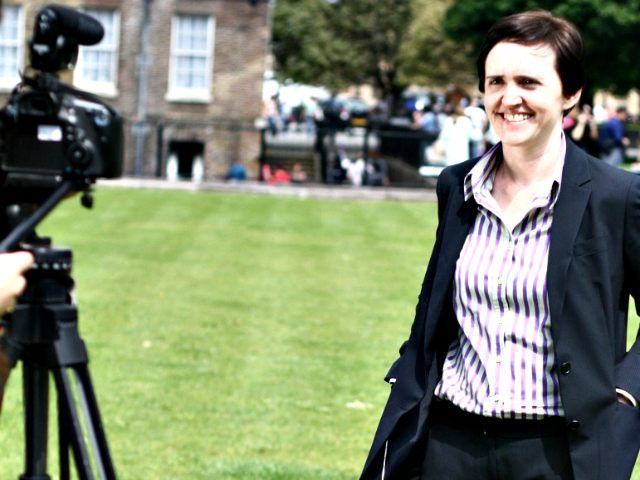 Anne Marie Waters
What happens when people are confronted with sheer evil? Well, some acknowledge it and attempt to oppose it, others refuse to admit it exists and attack those who continually remind them that it does. An effective tactic is to pretend that those who oppose evil are in fact evil themselves ("racist", "bigot" etc). This tactic was utilised again yesterday when I was featured in a BBC programme which purported that I, who sought to show some cartoons in support of free expression the world over, am the equivalent of a jihadist who wants to cut up little girls' genitals, wants those who leave Islam to be murdered, and calls for a global battle against democracy and freedom. 
We're the same, equally "radical". Moral relativism has reduced us to such depths that opposites are now equals and right and wrong no longer exist.
The BBC's Victoria Live programme showcased myself and one Haitham al-Haddad as "two people not deemed potentially violent but considered by some as very offensive". Caitrin Nye, the journalist who produced the report, attempted to downplay Haddad's views in her introduction of him. She said he has stated that "God hates homosexuals, that leaving Islam is punishable by death in the right circumstances, and that Sunni Muslims shouldn't marry Shias".
In fact, Haddad has said a lot more than that. I can't help but wonder why she omitted the following: He endorses death-by-stoning for adultery, which sounds fairly violent to me. In addition to his belief that apostates should be killed, Haddad thinks that a man should be permitted to beat and rape his wife (not violent?), and that child marriage and female genital mutilation (FGM) are entirely acceptable. This is that passes for "not deemed potentially violent" in the eyes of the BBC.
I, on the other hand, believe that people should be entirely free to join or leave any religion they like, or to join no religion at all. I believe that both men and women should have the equal right not to be beaten or raped, and that child marriage and FGM are grotesquely cruel and should be punished to the fullest extent of our law. Yet somehow I am comparable to Haitham al Haddad.