Let me get this straight;
Leftist Loon (and Stalinist stalker) "journalist" outed a retired journalist (with a serious heart condition) because of her political opinions, and gets irate for her publishing his phone number in an article on their victimizing and stalking of her, though he has previously published, and on numerous occasions, the same phone number in the social media, on twitter.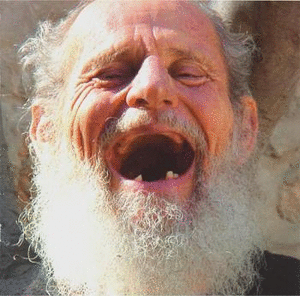 NOTE: This is faux outrage, trying to find anything to save some face after doing the unthinkable, endangering a fellow journalist because he disagrees with her politically.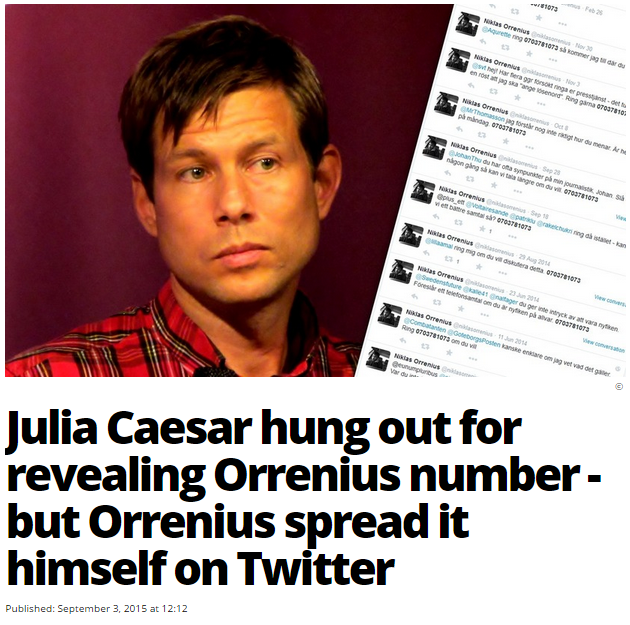 Published: September 3, 2015 at 12:12
HOME. One of the reasons that Julia Caesar yesterday was hanged out by Dagens Nyheter's sister newspaper, Expressen, was to take revenge on her for having published Niklas Orrenius phone number in a column. But today the Free Times shows that Orrenius has not been very secretive with his phone number, instead, he openly spread it on Twitter. Orrenius does not want to answer questions about his number when the Free Times came calling:
– I have a bad security situation and I do not talk to anyone, he says.
"In her column she published Orrenius phone number, and we have both lived with threats and harassment since it was published."
So wrote Annika Hamrud and Expressen in an article yesterday in which the former DN-journalist behind the immigration-critical pseudonym of Julia Caesar was outed with her name and picture.
Although the two politically left profiled trade magazines journalist and Dagens Media put the focus on that Julia Caesar had "published" Orrenius phone.
– Late Saturday night it began to ring. It has been two nights with hate and threat calls, said Niklas Orrenius to Dagens Media in an article in which it was made that Julia Caesar was wrong for publishing his number.
But Free Times can today show that Orrenius has not been the most secretive with his phone number. In recent years he has namely, been relatively uninhibited in spreading it in the open posts on Twitter no less than twenty times.
Anyone has thus been able to get Orrenius number, without having read Julia Caesar's Chronicle, merely by reading it from Orrenius himself as he writes in the social media. On several occasions, he sends, furthermore, unsolicited, his phone number to political opponents on the right, which is highly critical of Sweden's immigration policy.
More here in Swedish H/T: Roger Sahlström