You would have to be a complete moron to want to import such people who are totally alien to your way of life.
U.S. PUSHBACK AGAINST MUSLIM REFUGEES 'GROWING'
Government contractor offers advice on how to quash dissent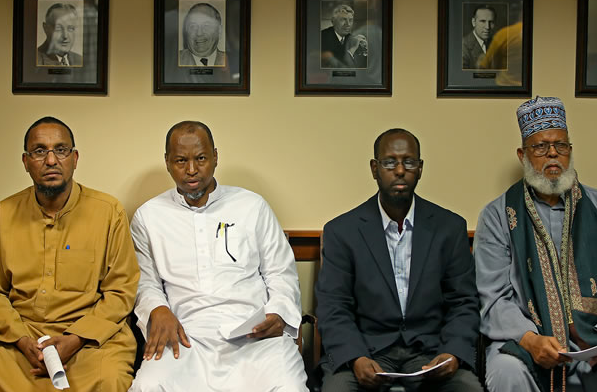 Somali refugees get ready to meet with city officials in Minneapolis, Minnesota.
Somali refugees at a city-council meeting in Minneapolis, Minnesota.
WND has discovered what amounts to the government playbook for countering the rising "backlash" against the secret planting of Muslim refugees into cities and towns across America.
The 2013 report anticipated two years ago that resistance would increase to the seeding of communities with Muslim refugees if counter measures were not undertaken.
The report was prophetic.
Last year, WND reported how the mayor of Athens, Georgia, requested the federal government not send any refugees to her town until she could get a handle on the costs. Earlier this year, another high-profile case of pushback emerged in Spartanburg, South Carolina, in Rep. Trey Gowdy's district, a story WND first reported in April.
In Wyoming, the only state that does not have a refugee resettlement agreement with the U.S. State Department, Gov. Matt Mead was "exploring" whether he should start such a program. But after stories in the local media and on WND, Mead dropped the plan.