Because once a slave, always a slave.
Qatar refuses to let Nepalese workers return to attend funerals after quake
Nepalese minister says Fifa must pressure the Gulf state for better treatment of 1.5 million south Asian migrants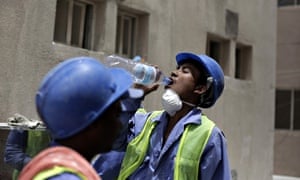 A Nepalese worker takes a break during a government-organised media tour of World Cup construction projects. Photograph: Maya Alleruzzo/AP
The government in Kathmandu has also for the first time publicly criticised Fifa, world football's governing body, and its commercial partners. It insists that they must put more pressure on Qatar to improve conditions for the 1.5 million migrants employed in the Gulf state as part of the World Cup construction boom.
About 400,000 of the workers on the project are from Nepal, with the rest mainly from India, Pakistan, Bangladesh and Sri Lanka.
Tek Bahadur Gurung, Nepal's labour minister, said: "After the earthquake of 25 April, we requested all companies in Qatar to give their Nepalese workers special leave and pay for their air fare home. While workers in some sectors of the economy have been given this, those on World Cup construction sites are not being allowed to leave because of the pressure to complete projects on time.
"They have lost relatives and their homes and are enduring very difficult conditions in Qatar. This is adding to their suffering."