Start treating the disease by first naming it, then introduce methods aimed at destroying it.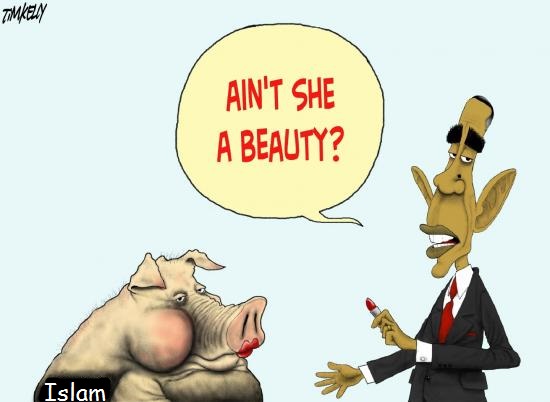 It's hard to destroy something if you don't know what it is. And it's hard to know what a thing is if you won't even call it by its name or name its ideology. The left loves root causes, but the root cause of ISIS isn't poverty, unemployment or a lack of democracy. It's Islam.
De-Islamization Is the Only Way to Fight ISIS
Daniel Greenfield, a Shillman Journalism Fellow at the David Horowitz Freedom Center, is a New York writer focusing on radical Islam.
Obama can't defeat ISIS with soft power, though ISIS could beat him with soft power assuming its Caliph ever decided to agree to sit down at a table with John Kerry without beheading him. Iran has picked up billions in sanctions relief and the right to take over Yemen and raid ships in international waters in the Persian Gulf just for agreeing to listen to Kerry talk for an hour. And that might be a fair exchange.
As bad as having your capital or ship seized by Iran is, listening to John Kerry talk is even worse.
If ISIS were to agree to a deal, it could pick up Baghdad and Damascus just in exchange for showing up. All it would have to do is find a Jihadi who hasn't chopped off any heads on camera to present as a moderate. The administration and its media operatives would accuse anyone who disagreed of aiding the ISIS hardliners at the expense of the ISIS moderates who also represent the hardliners.
If Obama did that, he would at least lose in a way that he understands; instead of in a way he doesn't.
[…]
Iraq and Syria aren't countries; they're collections of quarreling tribes that were forced into an arrangement that included the forms of Western government without any of the substance. When the Europeans left, kingdoms quickly became military juntas. Now the juntas are fighting for survival against Islamic insurgencies that are striving to return the region to what it was in the days of Mohammed.
ISIS is the ultimate decolonization effort. It's what the left claims that it wants. But real decolonization means stripping away everything the Europeans brought, including constitutions, labor unions and elections. The cities that ISIS controls have been truly decolonized. There is no music, there are no rights, slavery is back and every decision is made by a cleric with a militia or a militia leader with a cleric.
That's Mohammed. It's the Koran. It's Islam.