Islam and Slaves go hand in chain.
Qatar finances Hamas terrorism, and keeps workers as slaves, and couldn't care less for their mortality rate. Yet the Left goes after Israel with all its got.
How many slave deaths for the Qatar World Cup can Fifa put up with?
Fifa's president Sepp Blatter could change lives of World Cup labourers at a stroke by threatening to deprive Qatar of 2022 tournament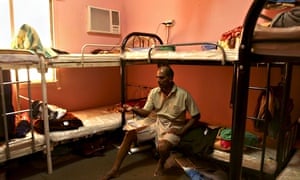 Clearly there must be a magic number of slave deaths in the world's richest country that would render the Qatar World Cup a moral and political no-no. But what is that number? What is the ballpark figure where deaths in the construction of ballparks become unacceptable?
The question is not believed to be keeping Sepp Blatter awake at night. Something tells me the Fifa president sleeps the bewilderingly untroubled sleep that only a certain stripe of western leader enjoys. (Do recall that Tony Blair actually had to be woken up to be told the bombing of Baghdad he had co-ordered was soon to begin.)
Fifa's sponsors, though, are deemed more reachable. This week has seen the launch of a campaign by the International Trade Union Confederation, Play Fair Qatar and the NewFifaNow group to shame them with the appalling conditions endured by labourers building tournament infrastructure for 2022. "As things stand," declares Play Fair Qatar, "more than 62 workers will die for each game played during the 2022 tournament."
More here. H/T: Elliot G.