Long John Rouhani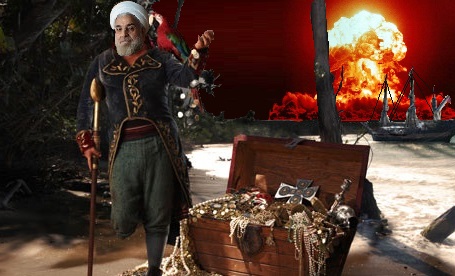 I guess the seizing of a Marshall Island's ship (under US jurisdiction) by the Iranians was too embarrassing to have a repeat of. But the dreadfully embarrassing and highly dangerous nuke deal is allowed to go on. Big business demands it.
US Navy to accompany US, British flagged ships in Persian Gulf after Iran seizes vessel
U.S. Navy ships will begin to accompany U.S.- and British-flagged commercial ships as they travel the Strait of Hormuz, defense officials confirmed to Fox News, on the heels of Iran seizing a cargo ship.
The Obama administration is closely monitoring Iran's takeover of the ship, as it involved a Marshall Islands-flagged vessel. The Marshall Islands and the U.S. have a longstanding security agreement, and officials said Thursday the two nations are in contact.
But, in a clear response to that incident, a defense official said the U.S. Navy will now accompany all U.S.-flagged ships going through the area, from the Persian Gulf toward the Arabian Sea. Officials said the Navy will also accompany British-flagged vessels. The move is the latest development in a high-stakes chess match in the region, with the Iran nuclear talks continuing to play out in the background.
More here. H/T: Fjordman