And so the morons in the EU want in on the business placing the price tag on European taxpayers, and overloading their social welfare nets.
Libya: The world's 'smuggler state'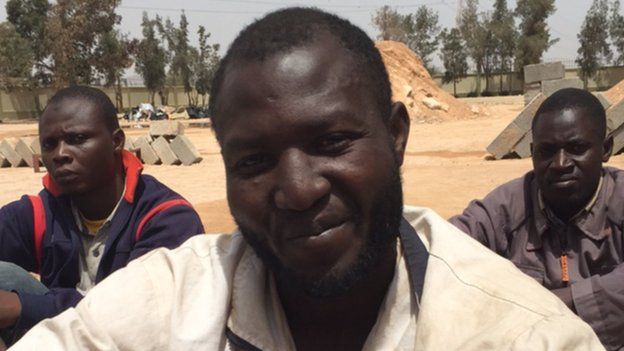 Abdul Rahim says he was treated like cargo
By a checkpoint outside the Libyan city of Misrata, a truck full of hay-bales is opened by border guards and a badly-kept secret is revealed.
Inside are women and children, and men too. Fifty people, migrants, in each truck, smuggled across the desert.
They had been inside for two days without food or water, some almost suffocated.
Abdul Rahim thought he would die. He has since been transferred to a Libyan jail.
"I paid 3,570 Libyan dinar (£1,700; $2,600) to be smuggled," he told me. "We were treated like cargo, the smugglers took a cut at every step."
People smugglers don't take too kindly to enquiries about their business but, after weeks of searching, one agreed to speak to me if he could remain anonymous.
He's grown rich out of the trade.
"The amount of money is phenomenal," he said.
"A fishing boat worth 40,000 dinar, (£20,000) can be sold for smuggling for £100,000. It's an unimaginable amount of money.
"The boats are brought in from Egypt, they're bad quality and you load it with 90 or 100 people, and some of them get there and others will die."
Parts of Libya, he said, are under the control of smugglers.
They run a state in Sabratha and Zuwarah, west of Tripoli near the Tunisian border. They use the official sea ports for smuggling immigrants, not through back roads and hidden ways, but they load people from the port docks.