No scarf, let the skirt slide.
More importantly, end Muslim migration into France and Europe at large.
France outcry over Muslim schoolgirl's skirt ban
29 April 2015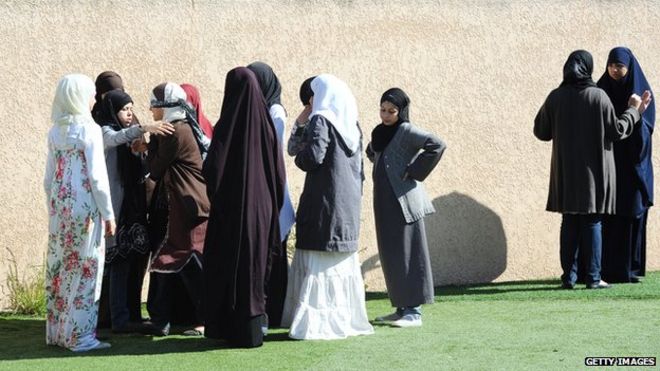 Pupils at a private Muslim school in Toulouse wear veils and long skirts
France is facing a fresh backlash against its strict secular policy after it emerged a 15-year-old Muslim girl was sent home from school because she was wearing a long black skirt.
The student, named as Sarah, was twice blocked from classes because the principal said her skirt broke a ban on religious signs in schools.
The girl removed her headscarf but said the skirt was not a religious symbol.
The case has provoked angry reactions online.
The hashtag #JePorteMaJupeCommeJeVeux, or "I wear my skirt how I want to" has had more than 45,000 tweets since Tuesday.
More here. H/T: Fjordman
NOTE: Prediction: this will lead to removal of the veil law at some point in the future. Again, the bigger issue is ending Muslim migration, as well as insisting that the public has the fundamental right not to subscribe to their (Muslims) religious symbols and values, meaning, store owners can refuse people wearing veils, selling pork wherever they want and schools and other public institutions not catering to halal demands.