The irony being, pursuing 'dialogue' is exactly the same ruse used by the Iranians and N.Koreans with great success in pursuing their goal of multiple nuke weapons and delivery capability.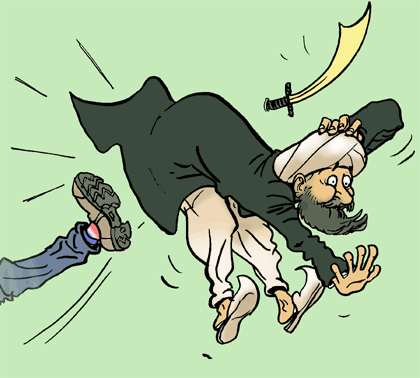 H/T: Fjordman
Not enough dialogue to combat extremism
Nearly half of Sweden's municipalities are failing to keep up a dialogue with mosques and religious associations about violent extremism, Swedish Radio News reports.
Swedish Radio's P4 Sörmland station spoke with several imams in the towns of Eskilstuna, Nyköping and Flen who said they have not been contacted by their respective municipalities regarding collaborations against violent extremism.
Mona Sahlin – the national coordinator against violent extremism – said that while half of municipalities are failing in this respect, the other half have established initiatives where religious communities and civil society do play important roles.
Sahlin told Swedish Radio News that she will demand that the failing municipalities improve their efforts.
"This is a major aspect of reality that the municipalities are clueless about. They must have a strategy in place to combat extremism, they must appoint responsible individuals, and they must familiarise themselves with their own communities," Sahlin told Swedish Radio News.
NOTE: Soon enough it'll be the Muslims stamping out the last vestiges of Christianity, Judaism and leftist inspired hedonism in Sweden, unhampered with 'multi-culturalism' as were the former owners.