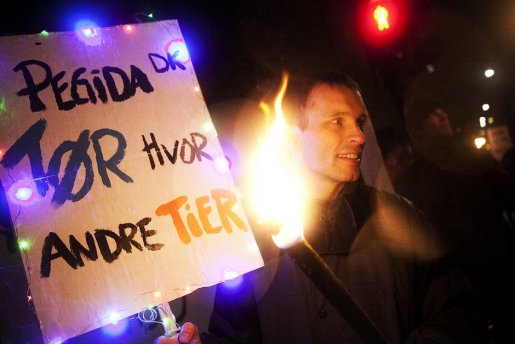 This coming Monday, May 4th, is the 70th anniversary of the liberation of Denmark from Nazi rule.
The group, Freedom for Denmark, is having its usual demonstration against the horrific effects of islam on our societies in the usual place, outside Axel's Torv Copenhagen at 6:00 PM Copenhagen time, despite the fascist thugs that caused bodily harm to many well meaning middle aged and harmless Danish patriots bearing signs like, 'end violence' etc.
Anyone who is like minded, and reads this and will be in Copenhagen on Monday, is encouraged to join them for a (hopefully) peaceful march for classical liberalism. The websites of the thugs states that they will try and destroy this group on this day. I think it would be worthwhile not to let them. So do attend if you are at all able.
UPDATE: PEGIDA's Nicolai Sennels sends the TT the following for posting:
The below is written by a friend who joins our weekly evening demonstrations every Monday in Copenhagen.
But first a video from that same evening. You can see us in the back ground with our white signs and banner "For Frihed" (For Freedom). We stood their 20-30 minutes while the police was fighting with the anti-fascists who tried to get to our group and attack us. Finally the police gave up and ordered us to return to our starting point. A loss for free speech and our constitutional right to assemble. But probably good for physical safety:
My speech that night (untexted, but it gives you a feeling of how it looks) – via our YouTube channel channel. It is from Axeltorv, a square in central Copenhagen:
By the way: Link to photos showing Hizb-ut-Tahrir speaking from the "anti"-fascists van here. I just do not get it: why does the Left love Islam that much? When I was a kid the Left was against suppression of women, against the power of religion (it was "opium" for the people) and for the right to speak freely against any authority, religious or political. Is it because Muslims vote Left, are they suicidal (artists and political activists will be the first to be flogged, tortured or beheaded if sharia takes over) or do they just not have a clue?