Obama spits in the eye of Cuba's oppressed and its diaspora.
As many US conservative political analysts have already surmised, Obama is more at home with dictators and tyrants, than with the Republican opposition, US ally Israel or even the Tea Party. Face it folks, if Obama was around in the WH during the Cold War instead of Ronald Reagan, the USSR would still be chugging along today.
NOTE: Lesson to be learned for all commy/tyrannical regimes: Stick to your gulags long enough, and dough headed leftist leaders in the West will fold one by one.
OBAMA, RAUL CASTRO SHAKE HANDS BEFORE SUMMIT'S OPENING CEREMONIES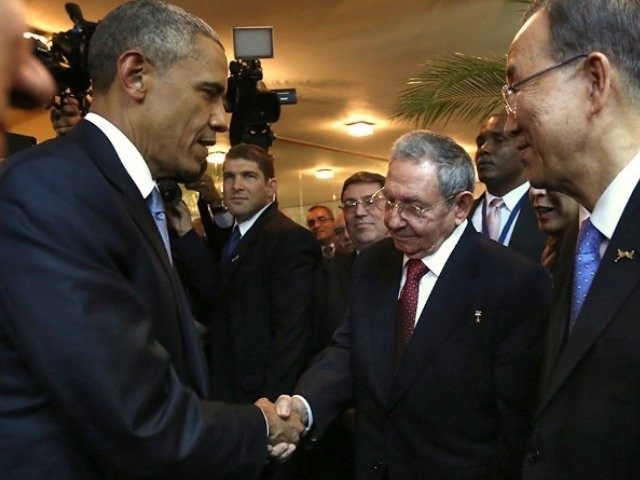 AFP Photo / Presidencia Panama
PANAMA CITY (AP) — With a cordial evening handshake, President Barack Obama and Cuban President Raul Castro moved Friday toward a groundbreaking meeting on the sidelines of the Summit of the Americas in what would be a remarkable display of reconciliation between two nations.
The powerful symbolism of a substantial exchange Saturday between the leaders with the leadership of the Western Hemisphere gathered around them could signal progress. Both sides are still working through nettlesome issues that would lead to the opening of embassies in Washington and Havana, the first stage in a new diplomatic relationship.
The first visual clues of an improved relationship – at least among leaders – came Friday evening as Obama and Castro arrived at a Panama City convention center for the summit's opening ceremonies. A reporter for a Venezuelan TV network posted video online showing the two greeting each other comfortably with multiple handshakes and extended small talk, while U.N. Secretary-General Ban Ki-moon and Cuban Foreign Minister Bruno Rodriguez looked on.
The White House said the interaction was informal and said they didn't engage in substantive conversation. The two men were expected to speak further Saturday – the first extended conversation between the leaders of the U.S. and Cuba in more than 50 years.
Obama, speaking to a meeting of civil society groups, cast the move to end hostile relations as a triumph for the Cuban people.