I can't stand Jon Leibowitz, he's an ignoramus blowhard who is at pains to defend Islam, because in his view, Christianity is as bad (or even worse) than Islam. He hates the enlightenment even though he would say he defends it, not knowing about, or perhaps even rejecting, the very individualism that the reformation cum enlightenment embodied.
Islam rejects individuality and questioning of authority or even doubt itself, let alone the very separation of earthly and temporal powers. Like I've been saying time and again, Islam is unlike any other religion, it is a complete society with rules for every aspect of human living, between believers and with the non-believer as well. Blow hard Leibowitz is an ignoramus boob who would (and his legion of writers) keep you in the dark about all this.
NOTE: Islam 101'ers and the myriad of average believers, have the benefit of hindsight in knowing exactly what and where the Christian reformation/enlightenment led, to the very free and open, modern and liberal societies that we have today, in which all beliefs and ideologies and philosophies have to compete with each other. They will in fact reject it.
Islam is not here for an equal footing, not for long that is, it's for dominance, something that these dunderheads are either all too afraid to think about, or choose to live in ignorance. Trying to mainstream Islamic orthodoxy to reform itself, removing death for apostasy and ending jihad as pillar of the faith, is like believing Hamas will renounce itself in recognizing the Jewish state. It's just not going to happen.
AYAAN HIRSI ALI EXPLAINS TO JON STEWART HOW ISLAM DIFFERS FROM OTHER RELIGIONS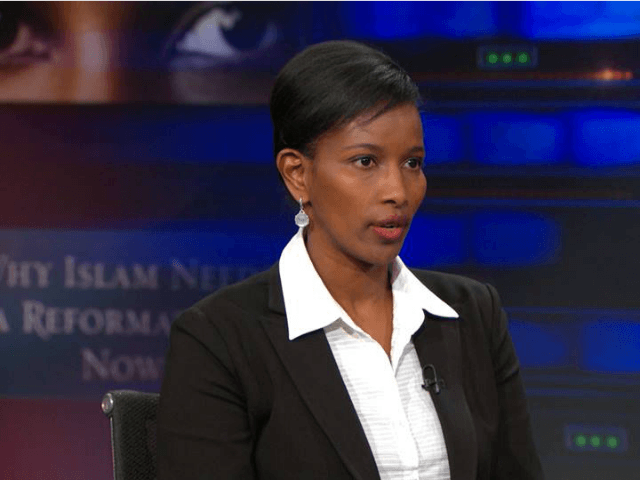 World-renowned author and staunch critic of Islam Ayaan Hirsi Ali appeared on the The Daily Show this week, where host Jon Stewart attempted to challenge her assertion that Islam is different from the world's three major Abrahamic religions–Judaism, Christianity, and Islam–as Hirsi Ali asserts in her latest book, Heretic: Why Islam Needs a Reformation Now.
"I think people single out Islam as though there is something inherently wrong with it that wasn't wrong with other religions," Stewart said. He then went on to question why Hirsi Ali believes Islam is "different" from other religions considering "Christianity went through almost the exact same process," as he referenced Martin Luther's Christian Reformation–which began in 1517 when he penned the "95 Theses," the document that attacked the Catholic Church for its corrupt practice of selling salvation to exonerate people of their sins and thus ushered in the Protestant denomination of Christianity.
NOTE II: Why anyone would pay to watch this goof is beyond me.