The milk toast Republicans.
The GOP leadership folds like a cheap suit. It's always, "now's not the time for that fight", bull crap coming from them. Time to remove these traitors from leadership.
WEAK GOP LEADERSHIP MAY ALLOW CONFIRMATION OF PRO-AMNESTY LORETTA LYNCH AS ATTORNEY GENERAL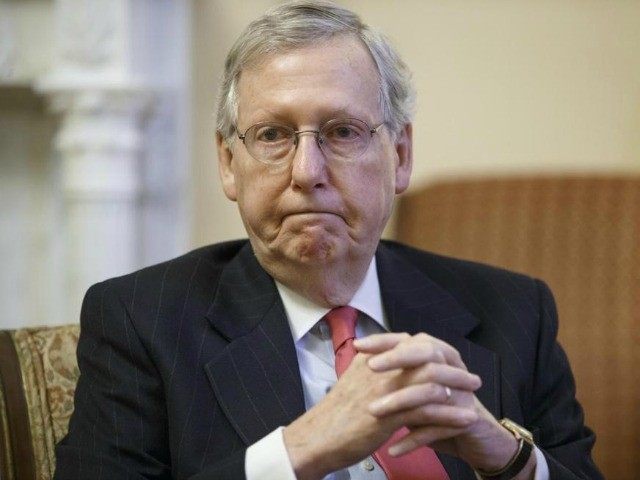 AP Photo/J. Scott Applewhite
As Politico reports, despite backing Barack Obama's executive power grab on amnesty — and her belief that illegal immigrants share the same "right and the obligation to work" in America as citizens, including veterans — Attorney General nominee Loretta Lynch is poised to be confirmed thanks to the support of some Senate Republicans.
Barring an 11th-hour surprise, Lynch is likely to be confirmed. But with four GOP senators currently backing her along with unanimous support from Senate Democrats, Lynch would secure the bare minimum required to be installed as the nation's top cop – as long as senators hauled in Vice President Joe Biden to break a tie.
Back on January 28th, Senator Jeff Sessions best summed up the reasons for all Republicans to oppose her nomination. Yet, GOP leadership has consistently failed to step up on the issue. Over the course of the past several weeks, Senate Majority Leader Mitch McConnell's office has consistently refused to answer whether he will keep his campaign promise — at first citing the fact that she was still in committee, and since then, he has been not answering reporters. That, despite telling Breitbart News in an exclusive  interview back in October that any nominee for AG must be publicly opposed to Obama's executive amnesty.
Still, as Politico reports even today, "Senate Majority Leader McConnell hasn't indicated how he will vote."