The main identifying features between these two sides, is that they're Islamonazis.
Hezbollah seated below, Shiite satellites of Shiite Iran
Islamic State jihadis……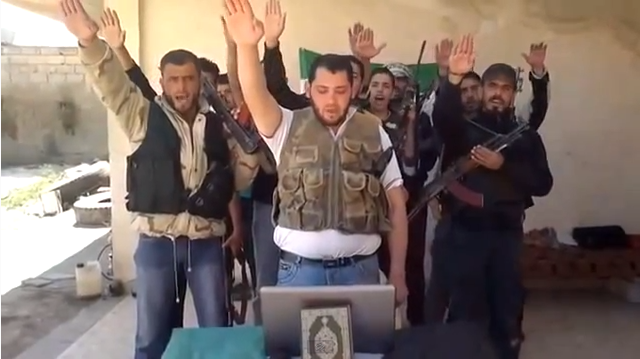 Iranian senior commander killed in Iraq
TEHRAN, Iran (AP) — A senior commander in Iran's powerful Revolutionary Guard has been killed during a battle against the Islamic State extremist group in Iraq, the Guard said Sunday.
Brig. Gen. Hamid Taqavi was "martyred while performing his advisory mission to confront ISIS terrorists in Samarra," said a statement posted on the Guard's website.
Shiite Iran says it has sent military advisers to assist Syria and Iraq in battling Sunni-led rebels and extremist groups, but has denied sending any combat forces to either country. Taqavi is the highest ranking officer known to have been killed outside Iran since the devastating 1980-88 war with Iraq, in which he fought and in which he lost his father and a brother.
The Guard said Taqavi was assisting Iraqi troops and Shiite volunteers defending Samarra, a city north of Baghdad which is home to a major Shiite shrine. It did not provide any details on how he was killed but said a funeral procession will be held in Tehran on Monday.
"Taqavi played a valuable and unforgettable role in countering the enemies of Islam," the Guard said, without elaborating.