Anti-Semitic and anti-Christian graffiti, an Islamo-'twofer'.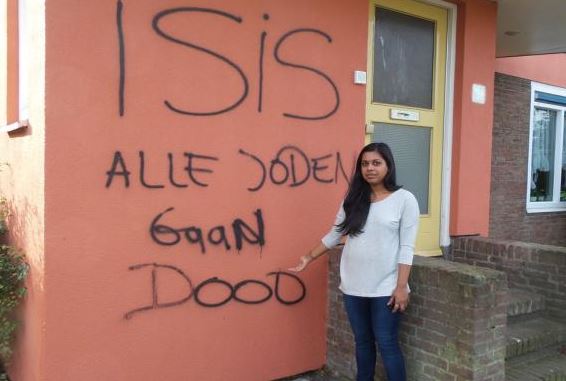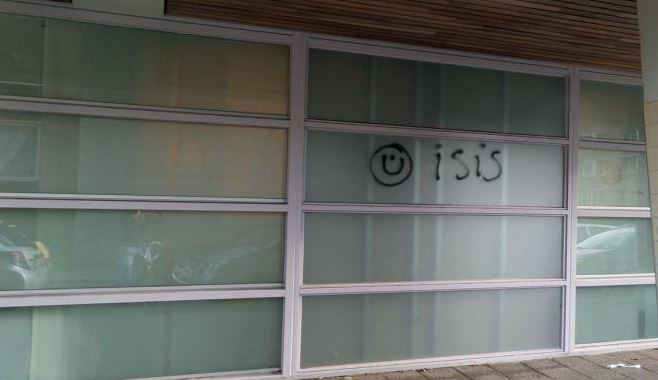 Graffiti in Dutch Town: ISIS -All Jews Will Die
A school and various buildings in the town of Voorburg have been vandalized with pro-ISIS graffiti and with texts such as "ISIS -All Jews Will Die".  The police assume that it is just hooliganism. [Comment:  It is easiest for the police to describe it as such because it requires little action from them.]
FM: BNFTN via Omroepwest.nl:
VOORBURG – More walls in Voorburg daubed with anti-Jewish slogans. At a corner house on the Nicholas Beetslaan state since Sunday 'ISIS all Jews will die. "
In the same street is a van plastered with the letters 'ISIS'. A little further to the side of a building at the Herman Heijermanshof the letters 'ISIS' followed by an IS-symbol (the Nasara symbol) which is now associated with solidarity with Christians in Iraq and Syria.
Shocking
The occupant Taira whose corner house is plastered find the slogans' shocking; "This kind of lyrics you would not expect in a quiet neighborhood," said the woman. When she wanted to go to bed Sunday night she heard rumblings on the wall. The municipality was already working to remove the text. Wall "But that is not yet succeeded."
Elementary
At primary school Driemaster in Voorburg on the Spinozalaan Sunday were anti-Semitic slogans daubed.On the wall were the letters' Jode die. " It would also pro-IS-slogans on the walls are.
According to an older single parents keep their children at home because of the slogans. The school has begun to remove the texts. An agent has visited the director of the school.
Omroepwest.nl