A real idiot on the taxpayer's dime.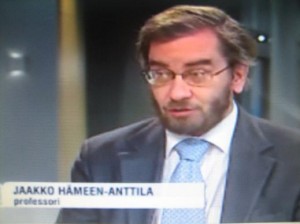 Finnish blogger Vasara Hammer sends the TT the following, in regards to the latest burps by one of Finland's leading Islam apologists, Helsinki professor of Islam (whose salary is paid by many an unwilling Finnish taxpayer).
In part he (Hämeen-Anttila) is correct, (but only by accident), because al-Qaida is no longer a top down command structured organization, but a loosely aligned band of jihadis, acting independently, like pirates rallying around the Islamo-jolly roger, conducting terror operations according to their own means and opportunity, making them that much more difficult to track.
Jewish Press: His name is Mustafa Setmariam Nasar, although he's also known as abu Musab al Suri (the Syrian).  Perhaps his most significant contributions to the cause of global jihad was his insistence that the old-style al Qaeda, with its rigid hierarchical structure, was a disaster for the movement and had to be jettisoned in favor of a different strategy.  In his 1600 page manifesto, al Suri stressed the need for the global jihadi movement to create a new fighting style focused on "individual terrorism."
Al-Qaida has taken a different course of action, it especially differs from IS, but they are a much deadlier force IMHO, than ever before. Al-Suri is a cunning strategist, and his modus operandi has won the day. But both these groups (IS and al-Qaida) want the same thing, and will eventually turn against each other once their goals are ever achieved.
Vasara Hammer : Words of wisdom from the leading Finnish authority on islam:
"Al-Qaeda is a (fading) brand. Islamic State is the premium brand today."
"While they don't have a member database, that doesn't mean that the brand is nonexistent. Hämeen-Anttila is trying to mislead his audience. That's what he does best. But one thing is for sure, Hämeen-Anttila is downplaying the entire thing, as usual."
Islamic studies professor: Al-Qaeda does not exist
Oman has said to have played a decisive role in the liberating of the kidnapped a Finnish couple in Yemen. Was the one behind  Oman's exerting pressure on Yemen, the University of Helsinki's professor of Arabic language and Islamic studies, Jaakko Häme-Anttila?
[…]
Does Yemen or Oman have al-Qaeda units?
"I do not believe in the entirety of al-Qaeda's active existence. It is not able to organize world-wide activities. It is largely of imagination and a fiction, more of a way of thinking as an organization. In Finland, it is handled quite wrongly. If there are radical militant Muslims, so they announce very happily as a branch of al-Qaeda. "