They're always seeking an angle to smear and tar Israel with.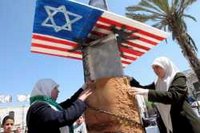 When absurd, over the top accusations are made, it's wise to take a closer look at those making the claims, instead of their intended target. What they're really trying to promote, is the myth that there are only "political prisoners" in Israeli jails, not the murderers, attempted murderers, rapists and other criminals of various sorts and degrees that actually fill these jail cells.
NOTE: If only the Arabs (P.A.) would fulfil their side of the agreements signed, and actively pursue, convict and incarcerate these criminals, they wouldn't be sitting in Israeli jails.
H/T: Yisrael Medad
Palestinian Authority: 'Holding our people in Israeli jails is a war crime'
Palestinians mark Prisoner Day in Ramallah, April 17 

Photo: REUTERS
Israel is liable for war crimes over the prisoner issue now that the Palestinian Authority has ratified the four Geneva Conventions, including the one relating to prisoners of war, PA officials charged on Thursday.
To mark Palestinian Prisoner Day, they renewed their call for Israel to release all 5,300 security prisoners held in Israeli jails, noting that the 15 treaties and conventions they had ratified earlier this month – including the Geneva Conventions – allowed them to harness international law to support their cause.
Given that the "State of Palestine" has signed the conventions, there is a "legal, humanitarian and moral duty to exert real pressure to stop aggression against the prisoners and to stop Israel from committing more war crimes," said Wasel Abu Yusef of the PLO Executive Committee.
"According to international law, these prisoners are fighting for the freedom of their people," Abu Yusef said of the security prisoners.