And Obama isn't pressing the Arabs to recognize Israel as Jewish state either.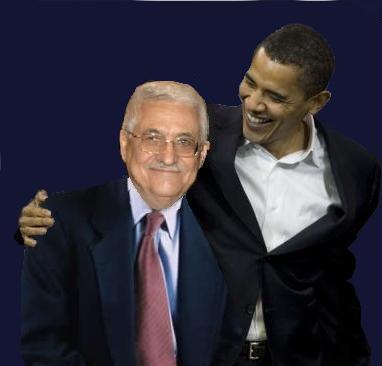 Besides, what would it matter for Abbas to actually mouth the words, "I accept Israel as a Jewish state"? It would only be for Western consumption as Arafat's fake letter was, in recognizing Israel's existence as a state.
Abbas hasn't any weight outside his small faction in Ramallah, in fact, it would be a great strategic move on his part, against Israel, to feign recognition of a Jewish state, think of all the carrots that would flow his way as he and his minions tell the people in Arabic that it's all just a ruse.
NOTE: Islam forbids any ceding of land to non-Muslims, it's all Islam, all of the time and for all time.
Arab League rejects Israel's demand for recognition as a Jewish state
03/09/2014 19:00
Council ministers endorse PA President Abbas's rejection of Netanyahu's requirement for peace.
PA President Abbas and Arab League chief Nabil Elaraby Photo: Reuters
Palestinian Authority President Mahmoud Abbas gained Arab League support Sunday for his refusal to recognize Israel as the nation state of the Jewish people, a week before his planned meeting with US President Barack Obama.
"The council of the Arab League confirms its support for the Palestinian leadership in its effort to end the Israeli occupation over Palestinian lands and emphasizes its rejection of recognizing Israel as a 'Jewish state,'" Arab foreign ministers said in a statement in Cairo.
Arab League chief Nabil Elaraby said Prime Minister Binyamin Netanyahu's demand goes beyond the framework of the negotiations and that there was no need to accept this Israeli position.
These statements came fast on the heels of unequivocal comments by Abbas in recent days against compromising on this issue, one of Netanyahu's key demands.