A more desirable alternative headline:
Pope calls on wealthy Saudi Arabia and Gulf states to take in more Muslim refugees 
But no, it's only the West that's called upon to take in Muslim refugees, in spite of the wealth (mainly from oil) of a number of these Arab/Muslim states. Think about it, it's more humane for the people in question, to stay within their own region, own language, religious and ethnic groups, than to pay enormous amounts of their own money to travel to far away Europe and the US and beyond.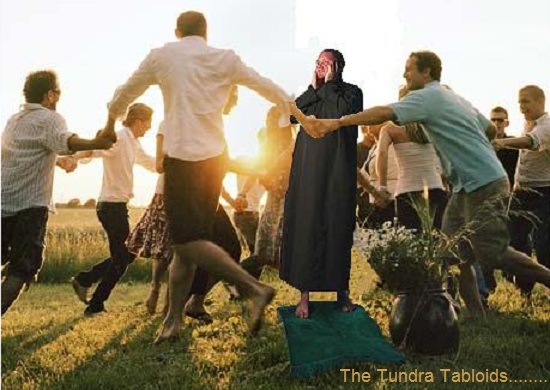 NOTE: "Open refugee" policy is an affront to the average taxpayer who has to support the entire utopian project, and with no end in site.
Pope praises Sweden for 'open' refugee policy
Pope Francis greets couples gathered in St. Peter's Square at the Vatican, Friday, Feb. 14, 2014. Photo: Alessandra Tarantino/AP
Published: 15 Feb 2014 12:38 GMT+01:00
Pope Francis has lavished praise on Sweden for its policy on integrating immigrants into society and hinted he would like to visit the country in future.
The pontiff made the comments after meeting two Argentinian brothers who moved to Sweden in the 70s to flee their nation's military dictatorship. Carlos and Rodolfo Luna chatted for an hour with their compatriot at the Vatican, where the new Pope spoke warmly about their adopted country.
"Sweden opens its borders, organizes language classes, gives economic assistance, and offers paths to join society," Pope Francis said reports Vatican Radio.
He added that Sweden's policy on welcoming immigrants was at odds with other countries, who he claimed viewed them as a 'bad word.'
"We have so many refugees, but no one wants them. They are a 'bad word.' Jesus was a refugee. He was not a tourist. It was not for work. He was fleeing death. A refugee," he said.