Which makes this picture of mine all the more prescient.
The family had all the hospital bills waived as well. This further underlines my point of how foolish it is for the international media to laud the 'social services' of the Hezbollah (and Hamas) as proof of their legitimacy. The Chicago mobster, Al Capone,who ruled the city during the 20's doled out cash and services to curry favour and position, but he was still a murderous thug.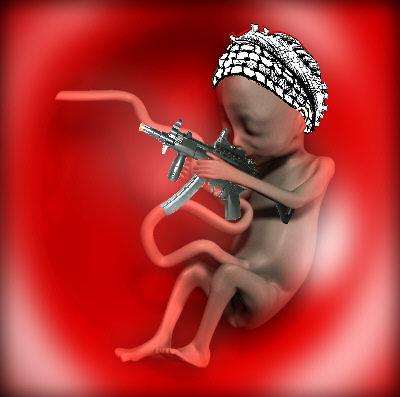 Hezbollah unviels youngest terrorist
Mahdi, dressed in an oversized army uniform, was dedicated to the Shiite terror group from the moment he was born
Baby Mahdi, Hezbollah's youngest member (photo credit: screen capture: YouTube)
Little baby Mahdi, a pudgy-faced Lebanese newborn who can still barely open his eyes, was destined to become a Hezbollah warrior from the moment he first entered this world.
"It's a boy!" a balloon in the hallway of the Rasul Aatham hospital in Beirut proudly exclaims. But, snoozing in his bed, Mahdi resembles a fighter.
In a video posted by Hezbollah-owned news channel al-Manar earlier this week, Mahdi is seen in a tiny military-style camouflage uniform only slightly too large for an infant of his stature. A hat bearing the Shiite organization's emblem keeps his head warm.
"Nothing could be better than him becoming a soldier for the Imam Mahdi [the prophesied redeemer of Islam]," his mother, dressed in traditional black Middle Eastern garb, tells al-Manar in the video, according to a translation posted by MEMRI, an Arab news watchdog.
According to the al-Manar report, as a token of appreciation, Mahdi's family had all hospital bills waived and was granted a golden necklace engraved with the name of the Prophet Muhammad.
"[He] reflects the continuation of the path of the Islamic resistance, one generation after another," Mahdi's mother says of her tiny baby in the video.
A future member of the Islamonazi regime.