The way an Eurocrat thinks: "A Jew building a home in Judea & Samaria is an impediment to peace, but Arab homicidal maniacs and general incitement to violence and murder are never to be considered as a road block to peace negotiations.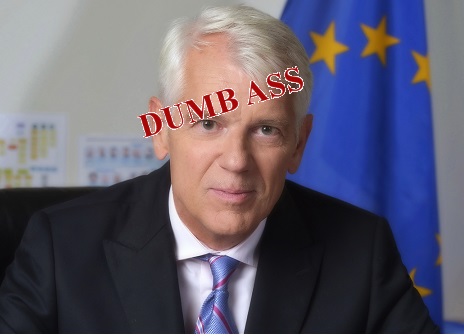 I would like for Israel to say that they (The EU and others) will pay a heavy price for insisting that a Jew building a home in his ancient homeland of Judea and Samaria is illegal. Jews have every legal right under the San Remo treaty, which a was universally recognized as legit and binding, and was the de facto beginning of the Jewish state of Israel, not the UNGA vote on partition.
The real fact of the matter is, the Arabs of the P.A. have never wanted a Pali state existing along side a Jewish one, especially in this time in history. The main goal is Israel's destruction, and to achieve that goal, they need a constant barrage of international outrage and funding.
If they were to call it quits, they would not only be giving up on their goals, (Hamas as well), they would be throwing themselves to the wolves in light of the 'new Middle East', the PA is the only Muslim regime in the region that hasn't experienced domestic political tumult afflicting the other Arab states.
EU envoy: Israel will pay price for settlements
EU envoy: Israel will pay heavy economic price if settlement construction continues
JERUSALEM (AP) — A senior European official on Wednesday painted an alarming picture for Israel if Mideast peace efforts fail, saying the country could face deepening economic isolation if it presses forward with construction of Jewish settlements.
The comments by EU Ambassador Lars Faaborg-Andersen were the latest salvo in an increasingly contentious war of words between Israel and the European Union over settlement construction. Last week, Israeli Prime Minister Benjamin Netanyahu accused the EU of unfairly singling out Israel for settlement construction while ignoring Palestinian transgressions.
A small but growing number of European businesses and pension funds have begun to drop investments or limit trade with Israeli firms involved in the West Bank settlements. While Europe is interested in improving already close ties with Israel, Faaborg-Andersen said momentum for further sanctions could grow if peace efforts fail.
"We have made it clear to the parties that there will be a price to pay if these negotiations falter," he said. "If Israel were to go down the road of continued settlement expansion … I'm afraid that what will transpire is a situation in which Israel will find itself increasingly isolated, not necessarily because of any decision taken at a governmental level but because of decisions taken by a myriad of private economic actors." He said this could include companies, pension funds or consumers who shun settlement goods.