Lets see here. A group of seriously devout Muslims who can cite chapter and verse of the koran, hadiths and sunna of Mohamed, have no problem threatening non-Muslims with death if they refuse to forcibly convert to Islam.
Gee, I wonder where they got that from?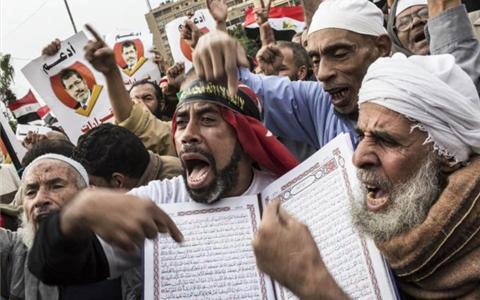 Islamist rebels said to forcibly convert Syrian Druze
Residents of 14 villages in isolated northern region reportedly ordered by al-Qaeda-linked group to publicly embrace Islam
A Druze resident of the Golan Heights looks out onto Syria in July 2012 (photo credit: Tsafrir Abayov/Flash90)
Al-Qaeda fighters in Syria forced residents of 14 Druze villages located in an isolated area to convert to Islam, The Times of Israel was told Monday.
The villagers, from the northern Syrian province of Idlib, were forced by members of the al-Qaeda-affiliated Islamic State of Iraq and the Levant group, known as ISIL or ISIS, to announce that they had accepted the Islamic faith, according to Syrian opposition sources.
In recent weeks, ISIL has gained increasing control over villages in the isolated northern region.
Upon seizing them, it sent villagers messages threatening to massacre them unless they converted to Islam and announced their conversion publicly.
ISIL is considered one of the most extremist and intolerant groups currently involved in the fighting against Syrian President Bashar Assad, even in comparison to the other rebel group linked to al-Qaeda, Jabhat al-Nusra.