What a racket.
Islam uses Western free speech liberties in order to promote their ideology that is an antithesis of Western values and freedoms, all the while they quote their texts brimming with classic antisemitism and hatred of 'the other'.
OIC Blames Free Speech for "Islamophobia" in West
The common thread that binds the entire document together is the OIC's repeated insistence that the main culprit responsible for "the institutionalization of Islamophobia" in Western countries is freedom of speech.

"The Istanbul Process started with Secretary of State Hillary Clinton and the EU High Representative for Foreign Affairs and Security Policy Catherine Ashton…. We need to build on it." — OIC Secretary General Ekmeleddin Isanoglu
The Organization of Islamic Cooperation, an influential bloc of 57 Muslim countries, has released the latest edition of its annual "Islamophobia" report.
The "Sixth OIC Observatory Report on Islamophobia: October 2012-September 2013" is a 94-page document purporting to "offer a comprehensive picture of Islamophobia, as it exists mainly in contemporary Western societies."
But the primary objective of the OIC—headquartered in Saudi Arabia and funded by dozens of Muslim countries that systematically persecute Christians and Jews—has long been to pressure Western countries into passing laws that would ban "negative stereotyping of Islam."
In this context, the OIC's annual Islamophobia report—an integral part of a sustained effort to prove the existence of a "culture of intolerance of Islam and Muslims" in the West—is in essence a lobbying tool to pressure Western governments to outlaw all forms of "Islamophobia," a nebulous concept invented by the Muslim Brotherhood in the 1990s.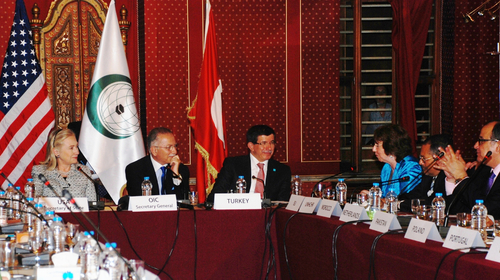 Then-Secretary of State Hillary Clinton (L), Secretary-General of the OIC Ekmeleddin İhsanoğlu (2nd L), Turkish Foreign Minister Ahmet Davutoglu (3rd L) and EU High Representative Catherine Ashton (4th L) participate in the OIC conference on "Building on the Consensus" in Istanbul, Turkey, on July 15, 2011. (State Department photo)
The OIC report comprises five main chapters and several annexes aimed at documenting "incidents of slandering and demeaning Muslims and their sacred symbols including attacks on mosques, verbal abuses and physical attacks against adherents of Islam, mainly due to their cultural traits."
But the common thread that binds the entire document together is the OIC's repeated insistence that the main culprit responsible for "the institutionalization of Islamophobia" in Western countries is freedom of speech, which the OIC claims has "contributed enormously to snowball Islamophobia and manipulate the mindset of ordinary Western people to develop a 'phobia' of Islam and Muslims."