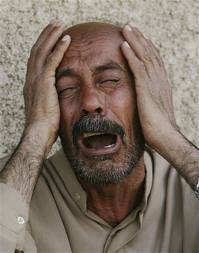 Activists Say 12 Rebels Killed in Syria Infighting
BEIRUT December 10, 2013 (AP)
Syrian activists say that fighters belonging to rival Islamic rebel groups are battling each other in the north and at least 12 have died.
The Britain-based Syrian Observatory for Human Rights says members of the al-Qaida linked Islamic State of Iraq and the Levant and another Islamic group clashed in the town of Maskaneh in the northern Aleppo province. Fighting started Tuesday morning after ISIL members detained a man to try him in an Islamic court they set up after driving President Bashar Assad's forces from the area.
Iranian border forces fire rockets in Pakistani territory
QUETTA – Iranian border forces fired five rockets in Pakistan's bordering town of Panjgoor on Monday, officials said.
An official of the provincial Home and Tribal Affairs Department said the rockets fired by Iranian forces landed at the Paroum area of Panjgoor.
"The loud noise from the rockets were heard far and wide and caused panic in the area," he said.
However, no fatalities were reported as a result of the rocket attacks.
The provincial Home Department official said Iranian border forces have fired rockets in Pakistani territory around 11 to 12 times during the last one-and-half months.
Repeated violation on the part of Iran has prompted the Balochistan government to bring the issue to the notice of the federal government.
Several dead in Iraq bomb blast
Attack in cafe in town south of Baquba comes a day after blasts in and around Baghdad killed at least 39 people.
A car bomb near a cafe in central Iraq has killed at least eight people in the latest in a series of attacks.
Monday's blast in the town of Buhriz, south of Baquba, also wounded 22 people, police and medical sources said.
The attack came a day after a series of bombings in and around Baghdad killed at least 39 people.
Armed groups have attacked dozens of cafes in Iraq in recent months, and have repeatedly targeted other crowded areas such as markets and mosques – despite increased security measures put in place by the authorities.
Violence in Iraq has reached a level this year not seen since 2008, when the country was just emerging from a brutal period of rampant sectarian killings. Nearly 950 people were killed in the month of November alone.
Officials have pointed the finger at al-Qaeda-linked groups emboldened by the civil war in neighbouring Syria, but analysts and diplomats say the government has not done enough to address underlying domestic problems.
Four terrorists killed in US drone strike in Yemen 
Dec 10, 2013
Sanaa, Dec 10 (IANS) At least four Al Qaeda members were killed when two missiles fired from a US drone bombed their car in Yemen's southeastern province of Hadramout Monday, a military source said.
"Up to four terrorists were in the charred vehicle, which burst into flames shortly after a huge explosion of their small pick-up truck in the Qatan valley in Hadramout," Xinhua quoted a military source as saying.
The drone fired two missiles against the Al Qaeda-linked car which was traveling on a main road in the Qatan valley, the source said.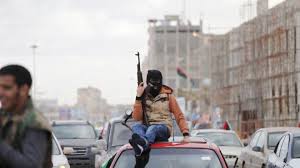 Gunmen Kill Senior Libyan Police Officer
TRIPOLI, Libya December 9, 2013 (AP)
By ESAM MOHAMED Associated Press
A Libyan security official says gunmen have killed a senior police officer in the hometown of former dictator Moammar Gadhafi.
The official says Col. Ramadan al-Turouk was shot dead on Monday night in his car, close to his home in Sirte. Al-Turouk was head of the local passport and immigration office.
The official spoke on condition of anonymity according to regulations. He says it was not known who the attackers were and that an investigation is underway.