Nothing will mend the sunni-shiia rift, not even a Arab state's civil war.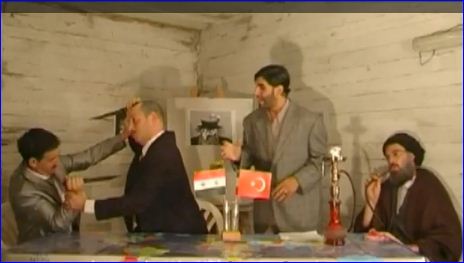 Lets just call it a theoretical 'momentary cessation of hostilities', but even that is pure speculation, and before long, they'll be at each other's throats.
Turkey, Iran signal thaw in ties amid mutual concern on Syria
ISTANBUL (Reuters) – Turkey and Iran said on Friday they had common concerns about the increasingly sectarian nature of Syria's civil war, signaling a thaw in a key Middle Eastern relationship strained by stark differences over the conflict.
Iran has been a staunch ally of Syrian President Bashar al-Assad since the start of the 32-month-old uprising against him, while Turkey has been one of his fiercest critics, supporting the opposition and giving refuge to rebel fighters.
But the election in June of President Hassan Rouhani, a relative moderate who says he wants to thaw Iran's icy relations with the West, and shared concern over the rise of al Qaeda in Syria, have spurred hopes of a rapprochement.
"Sitting here together with the Iranian foreign minister you can be sure we will be working together to fight these types of scenarios which aim to see a sectarian conflict," Turkish Foreign Minister Ahmet Davutoglu told a conference in Istanbul.
Iranian Foreign Minister Mohammad Javad Zarif, who held talks with Turkish President Abdullah Gul in Istanbul and was due to meet Prime Minister Tayyip Erdogan later in Ankara, echoed the comments, saying that sectarian unrest posed an even greater risk than the use of chemical weapons.
"I believe sectarian conflict is even a greater threat and it is not confined to one region," Zarif said.