Big time Olympic fears.
"Russia has a Muslim dilemma; Ethnic Russians hostile to Muslims / Followers of Islam say they have been citizens a long time" in the San Francisco Chronicle dated Nov. 19, 2006. The relevant part relies on the work of Paul Goble, an expert on Islam in Russia and a research associate at the University of Tartu in Estonia:
The country's 2002 census shows that the national fertility rate is 1.5 children per woman, far below the 2.1 children per woman needed to maintain the country's population of about 143 million. The rate in Moscow is even lower, at 1.1 children per woman.

But Russia's Muslims are bucking that trend. The fertility rate for Tatars living in Moscow, for example, is six children per woman, Goble said, while the Chechen and Ingush communities are averaging 10 children per woman.

Source: Daniel Pipes: Muslim Russia?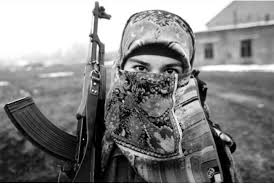 Winter Olympics 2014: Russian President Vladimir Putin takes on the 'black widows' in Sochi security crackdown
Muslim women forced to provide saliva samples after suicide bombings by separatists raise Games fears
Russia has been targeting conservative Muslims in its restive Northern Caucasus, reportedly taking saliva samples from women, over concerns about insurgent attacks at the upcoming Winter Olympics in Sochi.
An attack by a female suicide bomber in southern Russia last month highlighted the security risks in Sochi, which is located near to violence-ridden North Caucasus republics, during the games three months from now. This latest cloud over the Sochi Olympics follows reports of widespread workers' rights violations during construction there, illegal rubbish dumping and allegations that up to half the of the £31.7bn budget of the games has been lost to corruption and inefficiency.
Eight women in Russia's Dagestan republic, which has become an epicentre of insurgent violence, said the authorities had asked them to provide saliva swabs after a suicide bombing in the regional capital of Makhachkala in May, Reuters reported. Police declined to comment, it reported. DNA from such swabs can be used to identify the women if they later blow themselves up.