Freedom fighters my eye.
Gharba admits that the only difference between himself and al-Qaida terrorists, is that he believes that he represents Syrian interests, not the outsiders. It's all about who stands on top of the heap after the last slug is fired, not about a difference in Islamic ideology. Omar Gharba is for an Islamic state with the koran as its constitution, and make no mistake about it, any of the secularists in the ranks who aim to set up a secular democratic state in a post-Assad Syria, are in for a rude awakening.
NOTE: Sheik Yer'Mami (PBUH) has an excellent piece showing how the West is consistently taken for fools by the 'sons of the desert'. Click here.
An indictment of the civilised world's utter failure at peacemaking in Syria?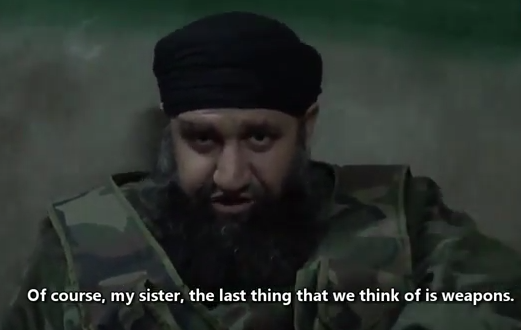 Published on Nov 1, 2013
These excerpts from a 2012 interview with Omar Gharba', a Wahhabi cleric and member of the US-backed "Free Syrian Army" (FSA) who recently smashed a statue of the Virgin Mary in Idlib, show the typical mentality of members of the FSA. His statements are full of contradictions, and they also contradict his actual practices. Not every FSA militant necessarily thinks like him, but the vast majority unfortunately do.